How to write a college or university essay introduction!
When you start writing your college essay or personal statement, don't ignore the introduction! In fact, it's probably the most important part of your essay, because it hooks in the reader. Ideally, your intro should begin with an attention-grabbing sentence.
A lot of people make the mistake of writing an introductory paragraph that explains what they're going to talk about in the rest of the essay. You might write something like this, "I've had a lot of different experiences on my journey to college, like working with others, helping the needy, and other college activities. I think all these things have helped me grow as a person and prepare for what's ahead." However, the reader doesn't need so much fluff – so get right to the facts and be specific!
To write a great college essay, start by focusing on your most interesting experience and telling that story (the rest of your essay) in the strongest way possible.
Our editing team is highly skilled and experienced in a variety of areas. That's why we offer academic editing services to help you make the most of your writing. Come back and see us for all your editing needs!
How to begin your college essay (also applies to application essays too!)
Starting any process can be difficult, especially if it has the potential to impact your future. If you're not sure how to get started on your essay, our essay prep tips can help.
Step 1: Begin by simply writing down your thoughts on a piece of paper. This will help you to develop a clearer and more concise text later on.
Step 2: Be prepared to spend some time on your essay. Your time is valuable, so be ready to allocate a few hours to working on your essay, rather than procrastinating or visiting friends.
Step 3: If you are given the opportunity to choose your own topic, select something that is significant to you. It is important to write about an experience that has had a significant impact on your life. In this case, being general and common is not ideal.
Step 4: It is important to take breaks while writing an essay. Trying to write the whole essay at once can be overwhelming and lead to subpar work. Instead, take a break for a few weeks to think about how to turn your notes into a cohesive text. This will help you produce a better essay.
Step 5: It can be helpful to ask for help when writing an essay. The process can be tiring and tough, and it can be difficult to know what data to include. You can ask your friends or parents for help, or look at college essay editing services to be sure of what you have written. EditMyPaper.ca is a great option for fixing rough texts and essays.
Here's a quick overview of the core steps to writing an amazing essay:
There are a few things to keep in mind when starting a college essay. First, make sure to start with a strong hook that will grab the reader's attention. Second, be sure to craft a clear and concise thesis statement that will guide the rest of your essay. Finally, make sure to use concrete and specific examples to support your points. By following these simple tips, you'll be well on your way to writing a great college essay.
Introduction: Part 1 of writing a college/university essay
After researching the expectations for college essays, you can begin to formulate a plan for your own essay.
The introduction to your essay is crucial in setting the tone and direction for the rest of the piece. It should be a clear text without any summarizing points, and it must include your thesis statement - the main idea of your essay. Its purpose is to give the reader a clear understanding of what is to come. The ideal length for a college essay introduction is around five sentences. This is enough to give a general first impression without going into too much detail.
The 6 Best Ways to Start a College or University Essay (this also applies to admission essays too!)
When writing your college essay, it is important to start with a strong introduction. This means creating a meaningful thesis statement and providing your readers with an overview of what they can expect to read in the essay. Here are some tips to help you write a strong introduction for your college essay:
Tip 1: Use all the time you have!
It is unnecessary to restate the essay prompt in the opening of the essay. If you begin with something like, "These are the reasons why Plato was brilliant," this will take up the reader's valuable time. It is best to avoid starting your essay with something generic.
Consider this essay introduction:
"I'm quite unsure which part of Kant's theories are the most important, because all his philosophies are valid. I will outline the specific theories regarding his categorical imperative notion."
This writer has a potentially valid introduction, but it doesn't grasp the reader's attention because it is vague and doesn't focus on what will be written about. Remember, be specific!
Boost your chances of getting accepted with our Professional editing service!
Tip 2: Jumping right in will help to engage the reader and keep them hooked.
An interesting introduction will do a superior job of hooking the reader and ensuring they stay engaged. Engaging the reader can be accomplished in various ways depending on what you're writing about. By hinting at aspects of the story, you can create a vivid picture in the reader's mind and keep them guessing about what will happen next. This builds suspense and keeps the reader hooked on finding out what happens next.
Tip 3: Tell your reader what's unique about yourself!
If there's something special about you that's also relevant to your essay, go ahead and start with that! You're competing against hundreds or even thousands of other applicants, so anything that makes you stand out from the crowd is bound to work in your favor.
Writing text that grabs the attention of the reader and talks about something unique in their lives is a great way to start your essay. Be sure to expand on these details in the following paragraphs.
Get TOP grades at your IDEAL university with our precise editing service!
Tip 4: Depict an image in the reader's mind
Beginning with a descriptive sentence can help build an image in your reader's mind to better understand your point. Take for example this writer who paints a descriptive picture for the reader:

"When I need to clear my head, there are two places I go to. The first is the top of the hill near my house. I like to go there because I can see everything around me and it feels like I'm on top of the world. The second place is the library. It's quiet and peaceful, and I can find a corner to curl up in with a good book."
Tip 5: An Element of Mystery
One way to engage your reader is by writing with mystery and surprise. This can make your essay stand out since admissions officers often have to read through many essays at a time. If you can make your readers guess what you are writing about, they are more likely to keep reading.
Tip 6: Share something personal or something you overcame
Share a problem you have faced, and then explain how you tackled it. This applicant relates how an issue of international prominence became personalized for him and his family:
"I remember when I was younger and my family and I faced a problem. We didn't know how to tackle it at first, but we eventually did. I'm so proud of my family for overcoming that difficult time."
Or

"I have faced many problems in my life, but one that stands out is the issue of immigration. This issue became very personal for me and my family when we had to leave our home country and come to the United States. We had to start over in a new country, with a new language and culture. It was a very difficult time for us, but we were determined to make it work. We worked hard to learn English and to adjust to our new life. It was a lot of work, but we did it and we are now doing well in the United States."
You don't need to limit yourself to global issues – you can state a general problem that affects most people, and then personalize it by relating how it affects you and what you're doing or will do to address it. This will make your introduction more dramatic and powerful.
How to start college essay examples: a piece of inspiration for you
After learning about how to write essays, you may want to find a successful essay example to better understand the structure of the text. This can help you understand the formatting and style of the essay. Additionally, you may be able to find inspiration while reading a college admission essay example.
If you want to be a successful essay writer, it helps to read other successful essays. This way, you can learn the writing style and format in advance. That way, when you sit down to write your own essay, you won't have to waste time looking up how to do it.
If you're looking for tips on how to start a college essay, there are plenty of sources you can consult. Admitted students often share their successful application stories, which can provide you with valuable insights and knowledge. And, of course, spending some time reading these stories can be enjoyable too.
FAQ
Q: How long should an introduction be for a college or university essay?
A: Although there's no set word count, generally aim for 5-7 sentences, including a thesis statement (if required).
Q: Is there a word count limit for a college admission essay about yourself?
A: There is no set word count for college admission essays about yourself, but most colleges will have a word limit for the essay, which is typically around 650 words.
Q: Is there a minimum word count for writing a college or university admissions essay?
A: The set minimum is typically around 400 words for college admission essays, but most schools suggest that students write around 650 words. This gives students enough space to introduce themselves and tell their story, without getting too bogged down in the details.
Q: Is there an average word count for writing a college admissions essay?
A: There is no definitive answer to this question, as the word count for college admission essays can vary greatly depending on the specific requirements of the school or program to which you are applying. However, as a general guideline, most college admission essays are between 500 and 750 words.
Getting started on any writing project can be tough, but it can be especially difficult if you're not sure what direction to take your piece in. That's where having a format can be really helpful; it can give you a general idea of what the finished product should look like, as well as provide some structure for your writing. If you're looking for a little guidance, here's a statement of purpose (or statement of interest) format to help you get started.
Wondering how long your statement of purpose should be, or the difference between a statement of purpose for graduate school (graduate school statement) and a Ph.D. statement of purpose? Here are a few things to keep in mind when writing your statement of purpose or your admission essay.
Our personal statement editing service will fix your writing issues and leave you more confident in your application and help you through the admission process.
If you're struggling to figure out where to start with your statement of purpose, don't worry – we've got you covered. In this quick guide, we'll tell you everything you need to know to write a strong statement of purpose. So instead of staring at a blank screen, you can start writing your first successful draft.
What is a statement of purpose?
Statement of purpose (SOP), also known as a statement of intent, is one of the most important aspects of your application when applying to graduate schools or universities. This essay tells the admission committee who you are, why you're applying, why you're a good candidate, and what you want to do in the future. Your professional goals, what you will do when becoming an alumni or Ph.D., and other numbers (GPA, test scores, etc.) are taken into consideration, but your essay is sometimes the deciding factor. Even top-rated universities, like MIT, Stanford, or Berkley, take essays into consideration when making their decision on whether to approve you.
What are the general conditions required for statement of interest?
The statement of purpose (also known as a statement of interest) reflects your writing abilities and qualifications as well. In college and graduate school, you'll be doing a lot of writing. It's a common situation at universities, and it wasn't unusual for me to write papers over 10 pages weekly. So it's important to show that you're a truly competent writer. Some statement of purpose tips are:
It should be free of grammar, spelling, or other writing issues
The tone should be authoritative, concise, and clear
Be really concise and avoid repetition or clichés
Stick with formal language and a positive, confident writing tone.
The flow of ideas should be logical and appropriate
There are a variety of ways to format a statement of purpose, but the general format is similar to other academic writing. Use these as guidelines:
1.5 line spacing
1-in margins on all sides of your page
Use Times New Roman font in 12-point font size
If you want your writing to be easier to read and provide you with some additional explanation, it is best to follow this format. Unfortunately, you likely won't get bonus points for standing out with your visual formatting. Focusing on your content instead will give you a much better outcome.
| Tips You Should Follow | Tips You Should Avoid |
| --- | --- |
| Properly format your writing | Use a general format for essays |
| Use a proper font and size | Use comic sans (casual font) and large/bold font size |
| Ensure perfect grammar and spelling | Use complicated phrases and run-on sentences |
| Use formal language | Use informal or casual writing |
| Evenly-space the writing | Use uneven spacing and visually pleasing imagery |
Do I need to put my name in the heading of my statement of purpose? What about my contact information?
In general, you don't need to put your name on your statement of purpose (SOP). This is because your statement is a small part of your entire application, which should already have your name. However, certain schools have specific requirements, such as including your name in every document, which you should always follow.
How long should a statement of purpose be?
When it comes to writing a statement of purpose, you don't want to go over the top with length. Many students are unsure of how long their statement should be, but in general, a one-page statement is ideal. If needed you could write up to 1.5 pages, but nothing longer than this.
Generally, admissions officers are busy people and they have to read dozens of applications every day. So, you're going to need to be able to concisely and clearly state what you want to say in 1-1.5 pages. Anything longer than that will make you seem like you lack focus and clarity in your statement. Remove all unnecessary information, like descriptions of your grades—they can be found in your supporting documents.
When you're applying to college, it's important to check the school's website for information about the application process. In most cases, admissions offices will have information about how long your statement of purpose should be.
Tips to get you the best statement of purpose essay ever!
When it comes to writing a statement of purpose, it can be difficult to know what to include in each section and what strategies to take into account. The following five-paragraph essay format can help you address all the points admissions officers expect you to cover. Additionally, this section will provide some tips on how to write a statement of purpose that is both well-organized and engaging.
This chart will give you an overview of what you'll be writing:
| Paragraph # | Paragraph Topic |
| --- | --- |
| 1st Paragraph | Introduction about yourself and your goals |
| 2nd Paragraph | Describe why you're so passionate about applying to the program |
| 3rd Paragraph | Discuss what makes you 'you'! |
| 4th Paragraph | Your experience/info about yourself |
| 5th Paragraph | Conclusion |
First paragraph: Introduce yourself and your career goals/professional objective
The first paragraph should be used to introduce yourself by describing your background and objective for your career or job. Always make sure your introduction relates to the coursework and programs you want to get into. If you want to talk about your love of kayaking when you're applying to dental school, it's important to make sure that you relate it back to specific aspects of the program. For example, if you're applying to a school with a strong focus on dental research, you could talk about how your kayaking skills have helped you develop problem-solving skills that you can use in a dental research setting. Alternatively, if you're applying to a school with a strong focus on patient care, you could talk about how your kayaking skills have helped you develop empathy and compassion for your patients. In any case, think carefully about the topic of relationships for your essay, as it can leave a strong impression on the admissions committee.
Make sure you do your research on the program and its coursework before you start writing your statement of purpose. Make sure that everything you write about is directly related to the specific details included in the program description. This will help you stay on track and focus on the requirements that are specific to your field of interest.
Second paragraph: Describe the reason you want to study
This paragraph should focus on the reason(s) for your choice of the study area. Students should focus on the reasons why they want to go to attend the program so that they can write a powerful statement of purpose. With your clearly outlined goal, you should explain why you are interested in it—what piques your interest about it more than other subjects? This is a good opportunity to explain why it's crucial for you to be admitted to the program. This should be clear, concise, and to the point—admissions officers don't want to read long verbose statements. Thus, a statement of purpose should tell why you connect with the specific field of study, and how it relates to your career success goals.
Giving really general reasons, like "I enjoy volunteering," doesn't help admissions officers understand you on an individual level. Many people give these reasons, so you need to look deeper and try to include them in your list of accomplishments. Why do you like helping people? How did you come to like helping people? Why do you want to learn in this specific program to help people? What is its relevance for your life? Why is graduate school the crucial place for your future? The more completely you understand your reasons, the better you'll be able to convince admissions officers you're the right choice. Concentrating on the reasons why you are the most appropriate person is the most essential part of writing personal statement essays. Whether you're submitting a college statement of purpose, grad school personal statement, or letter of intent, this is the chance for the graduate school to see what is important to you and how you took the opportunity to prove yourself.
Paragraphs 3 and 4: Explain why you are the BEST candidate for the program
The third paragraph is used to outline any experience you have in the area of study. If you're applying to study a particular field, it's important to include any experience you may have in that area. This can include jobs, internships, and any other projects you may have done. It gives the admissions committee a better idea of your personality and what you're interested in. If you're having trouble thinking of any applicable experience, try talking to some friends or family who know you well.
When you're writing your statement of interest, it's important to look back at your background and career goals to get a sense of what you want to accomplish. That way, you can talk about any related experience you have. The more direct the experience, the better. If you don't have direct experience, choose the most closely related experience if possible. Be sure to reference how the program and your experience are related. This will show that you're a great fit and understand the program. The admissions committee is seeking applicants who share the school's values and culture.
Next, talk about any other experiences you've had that have helped you decide on your specific area of study or prepare for graduate studies in general. Maybe you read a book that made you interested in literature or did some volunteer work that made you love economics. However, keep your statement brief – your statement of purpose is not the place for long narratives.
If there's anything else you think the admissions officer should know about you, go ahead and mention it here. Just make sure to emphasize why it's important that they know this information. Is there something about your experience or background that makes you uniquely suited for this program? If so, make sure to point that out in a precise and focused way.
Last paragraph: Concluding paragraph about your future goals
Here are some tips from our professional team of EditMyPaper on writing your statement of purpose. In the final paragraph, be sure to briefly describe your long-term career goals and motivations. Like all parts of your essay, it should be specific and abundantly clear for your reader. This goal is slightly different from the first paragraph's goal where you discussed what you want to achieve now. The concluding paragraph discusses your future-thinking goals. E.g., where do you want to be in your field a few years from now? You could discuss how this degree program would allow you to move up the ladder in your job to become a company director. This section will tell the committee about how serious you are about achieving your professional goals. 
Now it's time to talk about your future. Admissions officers and universities want to know that you have a clear vision for your future and how you plan to use the program to grow and contribute to your field. Why would they want to admit a student that doesn't have a clear vision? It doesn't make sense for a student without a clear goal to be chosen over a student who does. So make sure to outline your future goals and how the program will help you reach them.
Professional editors are now available to fix and improve any application essay or supporting document. We have medical school, law school, and business school experts, as well as previous admission officers ready to ensure you craft an unforgettable statement to make you the perfect candidate!

Review sample statements of purpose and learn how an expert editor is all you need to write a powerful essay.
Now that you understand the statement of purpose format, it's time to get started on yours! If you're ready, you can start writing right away. Unsure what this format looks like in action? Be sure to read some statement of purpose examples.
Reading sample essays can show you how the writer effectively followed the format for a strong statement of purpose. Notice whether the writer was clear in their statement of purpose and what you might do differently when you write your own. Make sure to take notes while you read and use them as a reference. This will definitely help you!
Graduate school is a huge step forward in your education! Make sure you take the time to focus on your goals and what you want to get out of the experience. The admissions officers want to see that you are clear about your reasons for pursuing graduate school.
Writing and editing can be really complicated, but with the right strategies, it's totally doable! This statement of purpose format can help you get started, but there's so much more to it than just that. Picking the right verb for a sentence is a real art, and you also need to be clear and punchy without being too wordy. Good writing is all about clear thinking and using interesting vocabulary. When you only have one page to convince someone to believe in your future, you'll want to make sure your writing is on point!
Are you worried about writing the best statement of purpose possible? Don't be! Your willingness and awareness can help you create an amazing essay, even if you don't refer to statement of intent examples. However, when it comes to something as important as a statement of purpose, having your essay well-edited can make all the difference between an acceptance letter and a rejection letter. Keep in mind that if you get rejected from the school you want, you may have to wait months or even up to a year before you can reapply. If you're looking for an edge, consider hiring a professional editor who has expertise in your field of interest. We only match the most appropriate editor with the document you need to be edited. Working on a medical school personal statement? We'll ensure your essay gets to an application editor for medical school. In the grand scheme of things, a professional essay editor is cost-efficient. Most textbooks cost more than an editor's services.
The team of our top-notch editors has prepared amazing statement of purpose essays for your colleagues. We'd be glad to work on yours with you too! Our admissions editing service uses the knowledge gained from writing previously accepted applicants for universities like Princeton or Harvard.
A Perfect Statement of Purpose checklist:
Clear and concise ideas
Free from grammar issues
All language is used appropriately
No typos or incorrect wording
The text grabs your reader's attention
Use one paragraph per idea
The entire essay flows nicely
The vocabulary is professional/academic
The editor fixed and approved the essay
Frequently Asked Questions (Application Essays)
1- Can you also edit my college enrollment application essays, or does the service only focus on graduate applications?
Our editors are skilled in editing all types of essays, so your college application essay will be in good hands.
2- Does Edit My Paper also provide editing for papers other than admission essays?
Our professional editing team is highly respected in the editing world. We offer academic editing services to help you make the most of your editing needs. Come back and see us soon for more editing options!

3- Do I need to write my name on my statement of purpose?
Since your name is already attached to your application, there's no need for you to write it again. However, this doesn't mean that your institution may not require it, so always double-check your requirements!
4- Should I put a title on my statement of purpose?
Unless required by your educational institution, there's no need to write a title.
5- What's the minimum word count for a graduate school statement of purpose?
The general minimum is 500 words for a graduate school SOP.
6- What's the maximum word count for a graduate school statement of purpose?
The general maximum is 1000 words for a graduate school SOP.
7- What's the average word count for a graduate school statement of purpose?
The general minimum is 750 words for a graduate school SOP.
8- How long should a grad school statement of purpose be?
It should generally be between 500 and 1000 words, not more.
9- What should I focus on in my statement of purpose (SOP)?
Only include relevant information that is connected to your thesis. Avoid facts that do not contain important information or filler words/phrases.
10 - How much time will it take to write a purpose statement for graduate school?
It will generally take between 15 to 60 minutes, depending on how long you write. If you follow our format guide in this document, it should take around 40 minutes to write an amazing statement, and it can be edited in 90 minutes to make it even better!
11- What font size and style should I use for my grad school statement of purpose?
We recommend Times New Roman and size 12 font.
Grammarly is a solid product – if it wasn't, it wouldn't be so popular, right? Using Artificial Intelligence (AI) technology, Grammarly works to help users correct some of their spelling mistakes, grammar mistakes, and punctuation mistakes. It aims to enhance individual sentences – without necessarily considering the intended meaning of the sentence or considering how the sentence fits in with the main argument being put forth in adjacent sentences and subsequent paragraphs.
In turn, Edit My Paper is a first-rate editing service. Note that it is not just a product, but a service that employs some of the finest professional editors in the world. These writing professionals work meticulously to locate and correct errors – this includes spelling errors, grammar errors, and punctuation errors. But your Edit My Paper editor will provide a far more substantive editing as they will also look for passive voice, wordy sentences, issues with logic, and other potential issues. They will help your writing process by teaching you the fundamentals of writing to help focus your argument and help you produce an outstanding paper. In fact, the average Edit My Paper editor, chosen after overcoming the rigorous selection process, is a professional writer and a subject-matter expert in his or her area – these are the perfect real people who can help guide you along your writing journey!
What product or service is right for your needs? Read on and let's figure it out!
Grammarly
First, let us examine Grammarly and consider its strengths and weaknesses.
Strengths:
A main reason people are drawn to Grammarly is that it provides instantaneous feedback. The Artificial Intelligence in its program lets you know immediately if it feels you are making a mistake. It offers suggestions and urges you to amend your work.
A second main strength is the price. A subscription to Grammarly is fairly inexpensive, especially if you opt in for the one-year plan. If you are responsible for many writing projects, the system will be there for you every step of the way.
Grammarly excels at catching grammatical errors, spelling mistakes, typographical errors, and other common errors. It also does well to denote repetitive words, even suggesting synonyms for you to consider.
If you do not excel in writing or if English is not your first language, Grammarly can help you write certain documents.
Weaknesses:
Grammarly's AI is impressive and uses large amounts of computational power. However, in the end, even the best AI cannot achieve the same standards that a reputable professional copyediting service can reach. The Grammarly editor, including that used in Grammarly Premium and Grammarly Business, cannot truly think for itself. While Grammarly aims to make individual sentences exceptional, it cannot consider topics as a whole and it cannot achieve the same standards of professional editing services.
Moreover, even though Grammarly's main focus is on individual sentences, even Grammarly Premium can struggle with complicated sentences. This ties in to the previous point in that the AI system cannot truly think to be able to understand a writer's idea and ensure that it comes across properly. In fact, the beginning of my previous sentence is the perfect case in point: my computer's AI tells me that "this ties in" is incorrect, instead suggesting "this tie" or "these ties". The AI assume "ties" is a plural noun rather than a verb. If I were to agree to the suggestions made by my AI, my sentence would no longer make sense.
Grammarly lacks the real-world experience that professional editors have. The system cannot explain why a phrase or an idea may please or upset the average professors in North American educational institutions. In turn, professional editors work with these profs and they can provide genuine feedback on this topic.
The most important flaw with Grammarly is that it cannot help focus an individual user's arguments. Professional editors are able to understand a client's aims, suggest specific ideas to enhance the thesis statement, topic sentences, and other key argumentative sentences. Whether you're writing term papers, theses, academic papers or even admissions essays, it is essential that you excel at this. Unfortunately, Grammarly, Grammarly Premium and Grammarly Business cannot help you in this area.
Final Verdict on Grammarly:
Grammarly can be very useful for helping certain people write particular works. Specifically, people who are weak writers and people whose first language isn't English can very much benefit from using Grammarly when they are working on items such as emails to friends, blog posts, social media posts, and other such documents. The system will catch many obvious errors in spelling and grammar in individual sentences. The inexpensive price and instantaneous feedback are strong drawing points as well.
In contrast, you get what you pay for. Grammarly is not recommended for more important works, including essays written by college students and reports written by working professionals. The system's AI lacks the ability of a professional editor to identify meaning and to strengthen important aspects such as arguments. It is quite common for the Artificial Intelligence to misread an idea and make incorrect suggestions. In turn, the people that most need the service may be prone to accepting suggestions that change the meaning of their works.
Edit My Paper
Now, let's look at the strengths and weaknesses of Edit My Paper.
Strengths:
Edit My Paper provides full-service editing. They employ real people who are subject-matter experts. This means that an expert editor working for Edit My Paper is well versed in writing and grammar and is also an authority on the topic of your paper – from philosophy to microbiology; from law to applied mathematics. Literary editing, scientific editing, technical editing, advanced editing of all kinds – they can edit all that and more. What's your subject matter? They can help you with that.
As mentioned, not only are Edit My Paper's editors native English speakers, they are also authorities on the English language. They have been educated at some of the finest universities in North America and Europe – most of them have Master's Degrees and PhDs – and they are excited to help you with your paper and to teach you the fundamentals of writing. They offer fast and accurate editing to find spelling errors, run-on sentences, issues with tense, and a wide range of grammatical errors. And if your paper isn't in English, Edit My Paper also has professional editors who are experts in German, Spanish and French.
The professional editors at Edit My Paper go beyond only editing for language. They help you focus your argument; they look out for issues with logic; they offer suggestions on how to make your paper as good as possible. If you're a newer writer, they can practically teach you how to write a paper. If you're an experienced writer, they can still point out areas that you can improve to enhance your content and improve your writing style.
Edit My Paper edits multiple types of papers. They help university students with their academic papers, and they are also equipped to edit theses and dissertations. Edit My Paper editors frequently work on manuscripts, including those aimed at academic journals as well as full-length fiction and non-fiction works. They edit business documents, including very technical pieces, that will help you at your job; and they also edit resumes and CVs to help you find the right job. They edit admissions documents, personal statements, and anything else you can think of – they know the fundamentals of writing all of them!
Edit My Paper offers affordable prices. Compared with other professional proofreading services, Edit My Paper has very reasonable rates, partly due to the fact that they utilize the Canadian dollar. When you consider the services they offer, this is great bang for your buck. They have multiple edit tiers to fit anyone's needs and everyone's budget – Gold, Silver, Bronze, and even Pro Level editing is offered.
Edit My Paper offers extras for those that want even more help. Although the well-educated editors are meticulous in their work, clients can identify as being English as a Second Language (ESL) or simply request extra editing. You can ask to receive extra comments, in-depth critiques, or help with your formatting or citations. These options are very helpful, and they are easy additions to make as you submit your paper.
Although not instantaneous like Grammarly, Edit My Paper provides very swift feedback. Their editors are on call 24 hours a day, 7 days a week. Do you want your paper edited in a day? They can do that. 7 hours? They can do that too. In fact, you can get your paper edited in as little as 90 minutes – just an hour and a half! Or, if it's no real rush, you can opt to have your paper edited in three business days to save a few bucks.
Customer support is available on Edit My Paper. More than that, it is easy to find and quick. Do you want to request an expert in a particular subject or perhaps even an exact editor? Customer support can help. Do you want to get a plagiarism checker to examine your writing assignment to ensure you won't run into any trouble? They've got you covered. Customer support is happy to offer pricing quotes, help in submitting your work, and a variety of special requests. If you have any questions, just ask.
Weaknesses:
Unlike Grammarly, Edit My Paper does not offer instantaneous feedback. Having said that, if you have 90 minutes or more before you need to turn in your final product, you can submit it to Edit My Paper and receive accurate and helpful feedback before your due date.
To use Edit My Paper's services, you need to pay every time you submit a paper. In contrast, Grammarly offers monthly subscriptions. However, Edit My Paper offers very reasonable rates. Considering that the editing is substantive and of a far higher quality, you end up getting a great return on investment when you submit a paper.
Final Verdict on Edit My Paper:
As you can see above, Edit My Paper has far more strengths than weaknesses. This editing service offers accurate grammatical editing while going more in depth to provide feedback on formatting your work, content, and writing style. The professional editors are highly educated and provide helpful feedback on a variety of works and an almost unlimited amount of subject areas. They have a range of editors to fit different price ranges and offer some extra services to go above and beyond other online editing services. Edit My Paper's services are highly recommended.
Overall Verdict:
Edit My Paper offers first-rate professional editing services. I won't repeat everything I just wrote in the paragraph above, so go back up and reread it if you want. Edit My Paper is extremely helpful to students, prospective students, academic professionals, business professionals, and more. The site's affordable rates ensure that you get great bang for your buck. In turn, if your budget is really limited, you might consider purchasing Grammarly as the subscriptions offer unlimited usage for your writing works. Having said that, you get what you pay for. After spending all that money on tuition, wouldn't you rather achieve high grades to ensure you find the career that you want? Or if you're already a working professional, don't you want to submit the best possible product to ensure you not only maintain your job, but that you also advance in your career?
For all your editing needs, submit your papers to Edit My Paper.
Writing a good essay isn't always easy. You need to account for the instructions you're given, the word count or page count limit (if any), and then you need to brainstorm ideas and find reliable sources. This article will outline 10 tips you can use to formulate an amazing essay!!
Carefully review your instructions

Most people don't pay much attention to the instructions for their academic essay, but this is the most important part. Start by reviewing the instructions and determining what type of sources you should use and how many. Often times you'll want to ask your professor for clarification on this, or a classmate. Starting writing down some notes about the instructions. Be mindful of the due date, amount of words or pages required and if you need specific types of sources.

Create a list of credible sources (hint: digital sources can be quickly searched for information!)

Determining which sources you should use for your essay isn't always essay. It's a good idea use sources such as Google Scholar or your school's library website to find reputable, peer reviewed sources. Books are also a good resource, but you may have to read through a lot of information before finding something relevant for your topic. The benefit of online resources is that they can be easily searched for keywords relating to your assignment, making your research a breeze! Be sure to write notes on the sources and the page you got the information from. There's nothing worse than writing an essay and then struggling to remember where you got the information from! A properly referenced paper will improve your grade and be less likely to be questioned.

Write ideas for topics

A good way to create or choose a topic is by the amount of available resources available for the particular topic. I think we can all agree that topics with few resources can often be difficult to write about, unless you're a self-proclaimed expert on the topic. So, once you have some ideas, see how many supporting details you can find about each topic. At this stage some students find it helpful to write a thesis statement for each topic, but often times this is better left to after you've written the body of your paper.

Organization and writing an outline

Doing all of this won't be helpful when it comes time to actually writing your essay unless you're organized. Thus, once you've chosen your topic, start by creating notes on the topic in the form of an outline. An outline is simply an overview of what topics and sub-topics you want to write about. You can include an overview of the information you want to include and the relevant sources. This is essential to creating great body paragraphs that flow nicely. In high school, most students are taught to organize their essays using the 'burger' method – with a beginning, middle and end. The same is true for college and university essays, however, there is often much more information (and more paragraphs) in the body of the essay. However, the basic structure remains the same, as well as the introduction and conclusion paragraphs.

Writing a good intro to an essay

Now that you've tackled your outline and are all organized, it's time to start writing. This should be fairly easy if you've followed the above steps, as you'll want to use your outline to assist with your introduction. A great introduction will aim to catch the reader's attention. You can do this in your first sentence by writing something provocative, but still academic friendly. Then jump into discussing what your essay will include and how relevant information will be asked and answered. If relevant, you will want to outline any theorists or sources that will be crucial to your paper. Then, state your thesis statement, ideally in one sentence.  Remember: sentence structure is particularly important. Don't write long sentences unless you're confident you won't confuse your reader.

The Body Paragraphs

The body of your essay is an important part of your essay and allows you to use all of the resources you gathered in your outline. Go back to your outline and see where you think a good place to start would be. Keep in mind that you should support your thesis at all times via relevant sources. However, most students make the mistake of simply quoting information without properly explaining it. Thus, it's often best to answer the question of your assignment by paraphrasing the information into your own words and then citing the facts properly. This way you demonstrate an understanding of the sources. This is the best way to write a body paragraph for a good college essay.

Support your information (and what makes a good source)

Most students can write but some forget to support their information with relevant citations by respectable authors. In your outline, you created a list of sources. Go back to that list while writing to ensure you are writing content that is supported by academic sources. These include: peer-reviewed journals, academic articles from reputable online databases, journal articles, books, newspaper articles from good publishers and websites from academic institutions or accredited authors. Sources you shouldn't use include: Wikipedia (tip: you can often find good sources in the reference section of every wiki article!), blogs by anonymous authors, or articles without an author. As well, the legitimacy of a website can often be determined by having a quick look. If it looks like your favorite fashion blog, don't use it. But if it looks like a boring academic website, odds are it might be good to use.

Transition properly from paragraph-to-paragraph

The best way to keep your reader from wandering off and wondering where your essay is going, is by using proper transitions and pairing them with a good topic sentence. When beginning a new paragraph, you'll want to transition your reader into what you're writing about by using words such as: additionally, however, moreover, and nevertheless. Use whichever word is appropriate, but don't overuse the words by using the same transition word for every paragraph. In addition, you want to start a paragraph with a good intro sentence which should introduce your idea and potentially build on what you've already said. The end of your paragraph should conclude your idea and no new information should be stated and sources should not be required.

Conclude your essay

Introductions and conclusions are not always easy, therefore some writers prefer to leave the introduction (and sometimes the thesis statement) until they've written their essay or be prepared to change it. A good concluding paragraph will have a good transition and you'll want to restate your thesis in different words. No new information or sources should be used, but rather you should summarize what you've written and ensure your arguments/content agrees with what you said in your thesis. Once you've demonstrated a good understanding of the topic and of your thesis, conclude the conclusion with something catchy. It should provoke the reader to think further about the topic or should leave a lasting impression on your reader.

Have a knowledgeable friend or essay editor review what you've written

If this is your rough draft, or even your final copy, you'll want to have someone else's eyes look over your paper. Often a graduate student or TA should review your paper to see if you've done a good job and to remove any English language issues. They'll be able to fix any issues, such as spelling, grammar and punctuation problems, as well as tell you whether something seems incorrect. You may not realize it, but you may be missing some important references which could cost you valuable points. Professional editors, like those provided by Edit My Paper, can also improve your vocabulary, which should improve your grade. After all, if you have great ideas but don't deliver them in an organized way or with sloppy grammar, it can impact your grade. Your reviewer should also leave you some comments on where you went wrong or how you can further improve your paper. You should revise your essay according to these comments, or at least take them into account.

Bonus tip: Submitting your paper

The delivery can often be just as important as the actual assignment. Make sure you submit it on time, have a good title page or have followed any formatting requirements, have footers/headers, a word count listed (if required) and page numbers. And ensure you have properly spaced your paper. As well, most papers should use Times New Roman font size 12. Using the default 'Calibri' font is often deemed unprofessional and can skew the length of your paper. And don't adjust the margins of your paper – they should usually be 1-inch margins – changing them is noticeable to your professor or TA.
Our expert editors have crafted this guide to make writing your next essay a breeze! We've laid out everything you need to know to ace your next essay! Once you're finished, we'd be glad to edit your final product! And don't worry, we offer last-minute editing with a 90 minute return!
Most university and college students are required to write at least a few essays. If you're in the humanities, it's likely you may even need to write a few essays for every class. Shockingly, only a few students love writing essays. Why? They're challenging. They may even be scary for some. But essay writing doesn't have to be scaring. Knowing how to write a high-quality essay can take away your fears and convince you that you can overcome this challenge. In turn, this guide will take you through the essay writing process step by step. It will provide you with the strategies you need to write a high-quality university essay and achieve a superior grade. All essays are different; but once you know how to structure an essay properly, you'll realize there's nothing to fear and that you can write on almost anything. No, this doesn't mean you will grow to love writing essays. But it means that you will forget your fears as you learn to write effectively and efficiently.

This guide will take you through the following easy steps:
Start Early
Choose Your Topic
Familiarize Yourself with Your Topic
Research
Construct Your Thesis
Write Your Body Paragraphs
Quotations
Introduction
Conclusion
Worked Cited/Bibliography
Revise
Proofread Your Essay


Start Early
Start early.  This may sound obvious, but it's an easy point to forget. Most students are enrolled in multiple classes, and some students have a tendency to put out fires instead of working proactively.  That's a great strategy to maybe get by.  But when you're spending thousands of dollars on your education and trying to prepare for your future, you want to excel, right?  Your instructor is required to give you ample time to write an essay.  Use this time efficiently.  Within two days of receiving your essay outline, take the time to review all your options.  Starting early is a good way to appease the anxiety you may have.  This is especially true if you can get ahead of the game.  Often, you'll see a topic or two that you'll be confident in your ability to handle. 
Note: Make sure to read the essay outline carefully. Profs often explicitly explain their expectations. This includes everything from font and margin size to stylistic concerns. Some profs frown upon students who use first person while others demand that students use it. Some provide a word minimum while others provide a maximum as well. What style do they expect you to use for your citations – APA, MLA, Chicago? Learn all this information early so you don't face unexpected deductions when your paper is graded and returned to you.
Choose Your Topic
As mentioned above, sometimes you when look at your essay outline, you feel confident that you can handle a few topics. However, other times, the essay questions can seem daunting. Either way, it's essential that you work to choose your topic as soon as possible.

In the case of having too many doable options, it's wise to narrow down your scope. When you sit around feeling confident that you could write about this or that, you remain indecisive and you're not really making progress. Once you procrastinate, it's easy to keep doing so. Pick your topic sooner than later so you can get started.

In contrast, when all topics seem difficult, it can weigh heavily upon you. In this case, not picking your topic will make things even more stressful. Indeed, once you pick your topic, you might not quite know how to turn it into a strong essay. However, it's far easier to worry about one topic than to worry about all of them. When you're not sure how you may answer any question, your anxiety is exponential.

Having said that, don't just pick your topic haphazardly. There are plenty of factors to consider before making your decision. How familiar are you with the topics? Can you write about this topic for the required length? If you need to do research, how difficult will it be to find solid sources? To find your answers, you might need to do a little research – no, not actual research; more like some quick internet searching. By asking yourself some questions, you will likely find that you are able to dismiss some of the more difficult topics quickly. Moreover, you may find that during this process of careful contemplation, you will realize that at least one of the topics is manageable.

Even at this time, you would be wise to consider narrowing down your topic even further. Sometimes, profs ask six or eight questions within the same topic. No, the prof does not want you to answer all these questions – this is an essay, not a pop quiz. In other cases, profs ask general questions that could lead essays into numerous directions. If the general topic is the novel in the Victorian Era, you could go a thousand ways. To deal with them all, you'd need to write a very long book, or maybe several books. In this case, consider choosing an author – Dickens, Austen, Eliot – whoever you prefer. Or, consider choosing a theme – industrialization, science, the supernatural. By narrowing your scope, you not only make things easier on yourself, but you also set yourself up to write a stronger essay and earn a higher grade.

Once you've made your selection, you're ready to roll. Try to get some work done every day or two, even if it is only a little bit. When you're learning a new language, is it more effective to work hard for two and a half hours on the 15th of every month or to work for 5 minutes a day all month? Both result in the same time commitment, but the daily effort is much more effective as it keeps the topic in your mind. The same holds true for writing essays. Even while you're busy working on other courses, reading textbooks, completing labs and writing exams, your subconscious will be unpacking some of the information for you. Then when you can devote your full attention to your essay, you will find yourself far ahead.
Familiarize Yourself with Your Topic
This continues the previous point. In order to choose your topic, you need to be familiar with some of its main ideas or concepts. This is the preliminary aspect of doing research. At this point, you need to familiarize yourself with books and online sources. Wikipedia has become a contentious subject in recent years. Some scholars argue that, because it is not peer-reviewed and it does not place greater emphasis on accredited contributors, it is not a reliable source. In contrast, others suggest that the fact that it is continuously updated by a wide variety of individuals, it provides a legitimate overview of topics. Whatever position your prof may have, Wikipedia remains a good place to start as it provides fruitful information that can be used as background material. From there, when you come across a concept of interest, you can quickly refer to the citation at the bottom of the page to find a reliable source that you can examine further during the research phase of your work. Although Wikipedia can provide a wide scope of information, remember that this is not the only source you should examine during this phase. Consult your university library to find books and other scholarly materials. If your topic is sufficiently narrow, you might even be able to go to a section of the library and pull books off the shelf. In addition, type keywords into Google or another search engine of your choice. Review some sites to decipher ideas and trends. Remember to make note of the sources that will be most useful to you. In order to allow a topic to enter your subconscious thought, you need to be adequately familiar with it.
Research
Once you have become familiar with your topic, it is time to get down and dirty with the research. At this point, take a closer look at the sources you have found in your preliminary phase. To begin, review the main concepts of these sources and skim parts of the texts. Swiftly, you will be able to determine whether or not a source is useful. In the meantime, by even doing a short review of numerous sources, this may inspire the creation of your argument. If you find sources that turn out to be less relevant than you first imagined, be heartless. Confirm this quickly and then get rid of the source. There is nothing worse than getting bogged down in a work that will not help you. In fact, such works may actually hinder you, as some students find themselves troubled by trying to fit a work into the concept they are working with.
When you find relevant materials in your research, take careful note of their main ideas. Jot notes down in whatever way you find convenient. Some people like to write down their notes on paper, as they feel this can help keep them organized. Others would never consider picking up a pen, and they simply make notes on their computers. I create a separate Microsoft Word file and make my notes there. Moreover, I find this to be efficient when examining online sources as I am easily able to copy and paste important quotations. For most scholarly essays, this is important as profs expect that you have a certain amount of evidence to back up your claims. At times, it's sufficient to simply cite an idea; at other times, you want to quote the source word-for-word.
As you perform your research, keep in mind that you need to be developing your own argument. Assuming they are well-written works, sources you are reading will be providing their arguments and trying to persuade you. You may indeed agree with some sources; but keep in mind that you should not simply spew the same information within your essay. Be critical as you read and determine where you agree with a source and where you disagree. If you are examining a variety of materials, it is quite possible you will come across two sources that utterly disagree with one another. In such cases, you may feel tempted to simply dismiss one source. However, take the time to read opposing perspectives to truly determine how you feel about a topic. In your essay, it can be a good idea to put forth the ideas of both perspectives in order to analyze them and come up with your argument.
Remember to note your sources at this time. When you're performing your research, make sure to get all the material needed for your in-text citations and for your works cited or bibliography. It only takes an extra few minutes to jot down this material. Even better, put these items in proper order and draw up the entries for your works cited page at this time. It is far easier to do so now than to have to return to a book or an online source at a later time.
Construct Your Thesis
Your thesis statement is the most important sentence(s) of your entire essay. Let me say that again: Your thesis statement is the most important sentence(s) of your entire essay. This is because your thesis puts forth your main argument. Every other word of your essay exists to help provide evidence for your thesis so that you can make your point. Without a solid thesis statement, some may even argue that you don't really have an essay.
If you lack a well-defined thesis statement:
Your essay will lack focus
Your reader will struggle to understand what you are saying
Your grade will go down significantly
In contrast, if you have a strong thesis statement:
Your argument will be clear
Your reader will be able to follow along with your essay
Your body paragraphs will have a specific purpose
You will easily be able to realize whether or not subsequent ideas fit in your particular essay
You will achieve a higher grade
So then, the question becomes, How can you write a strong thesis statement? A strong thesis statement needs to clearly and succinctly provide ample information about the topic at hand and then specifically outline your argument on the topic. Your thesis statement must present an argument. This is important, as too often students simply throw words down on paper and miss this component. Moreover, this argument must be debatable – it should be completely possible for another person to make the exact opposite argument and be able to present compelling evidence.
A strong thesis statement should provide a unique perspective or idea. Indeed, this can be difficult, as you're often given topics that many people have written about and it can be a challenge to find your unique voice. However, try to find something new to say or make a standard argument but provide new reasoning for your purposes. Look back at your research. Take some time to consider the overall area and to determine what a new and fresh approach might be. Construct an argument in your mind, and even consider writing down a few potential thesis statements to help you gain focus. Soon, you will be able to determine what information is essential and what information is extraneous.
Should a thesis statement be one sentence, or should it be more?  The answer to this difficult question is: it depends.  For shorter essays and essays for lower-level classes, you are often wiser to write one strong sentence; however, this is not the case in every instance.  In contrast, for upper-level courses, especially those that ask for long term papers, it is often impossible to put forth your entire argument in only one sentence.  In these cases, you are wise to try to write two or even three sentences.
Typically, your thesis statement is the final sentence(s) of your introduction. However, this is not always the case. Some professors want you to write one or two sentences for your thesis and then to follow them up with a few sentences that begin with "This essay will first…" and "Subsequently, this essay will examine the issue from the perspective of…." If a professor has taken the time to make such requests in his or her syllabus and/or in the essay topic sheet, be sure to take this advice seriously and do as requested.
Note: although every word and sub-argument that follows the thesis should lead back to your main argument, remember that your thesis can evolve. In the writing process, it is possible that you might present arguments that relate to the thesis but that also lead things in a slightly different direction. If this happens, be flexible. Continue writing your sub-arguments and then, during your revision process, re-evaluate where you're at. At that point, you might realize that you have simply gone astray, and then you'd be wise to delete or amend these paragraphs. However, there are occasions when you realize your sub-arguments are strong and that they are valuable to the overall essay. On such occasions, return to your thesis and amend it to reflect this new direction.
Write your Body Paragraphs
Body paragraphs make up the majority of the essay; thus, inevitably, it is important to write them well. Above, I told you that the most important sentence(s) of your essay was your thesis statement. Similarly, each body paragraph has its own mini thesis statement called the Topic Sentence. Your topic sentence is always the first sentence of any body paragraph. Like the thesis statement, your topic sentence puts forth an argument for your entire paragraph. Just as I said in the previous section, it is essential that you do this right and construct strong topic sentences.
What makes a good topic sentence? Like the thesis, it needs to put forth an argument. However, as a derivative of the thesis, it should always relate back to it. By this, I mean that your topic sentence must provide an argument that justifies or furthers your thesis statement. Naturally, it does not cover the same ground as your thesis statement. Rather, it puts forth one main concept that helps to provide evidence for your argument.
Note: just as your topic sentence must relate back to your thesis, every sentence in a paragraph must relate back to your topic sentence. In this way, sentences work together in a paragraph to justify the argument of that paragraph. If you have done so effectively, by the time you have finished that paragraph, your reader understands that you have provided legitimate evidence to help make your case.
If ever you find a sentence (or more than one sentence) that goes astray from your topic sentence, you need to remove it from the paragraph. At this stage, you need to decide whether the concept is relevant to your overall thesis statement. If so, is it fruitful enough for you to write an entire paragraph about it? If not, does it relate more specifically to the argument you have put forth in a different topic sentence? If you keep determining that the answer is no, then it is possible you might simply need to delete occasional ideas. This is preferable to going astray within a paragraph or to simply writing a grab-bag paragraph that encompasses many one-sentence ideas.
How long should a paragraph be? For first-year classes, professors will often recommend that paragraphs be between five and nine sentences. This is a good start. You should never write a paragraph that is less than five sentences. Simply put, if you have fewer sentences, it is almost impossible to put forth a compelling argument. For shorter essays, you might consider seven or nine sentences the maximum. Remember, each sentence needs to relate to your topic sentence, so if you write too much, you may go astray.
For longer essays, you might write a full page for many paragraphs. In this vein, if you find yourself writing well over a page, you have likely written too much. You might be saying, "But all the information in this paragraph is relevant to my topic sentence!" If this is the case, give yourself a pat on the back, because this takes tremendous effort and dedication. However, if you are at this advanced stage, you are likely skillful enough to do the unthinkable: split a long paragraph into two (or three or five) paragraphs. Within your main idea, you should be able to split your argument into two components. It is natural that they will interrelate to a large extent. Put forth one component in the first paragraph, and then write a second and related topic sentence to begin the new paragraph. There are indeed occasions where the evidence is thorough enough to justify multiple paragraphs to fully explain a point.
As you're writing your body paragraphs, naturally you will be constantly referring back to your research. Keep in mind that you do not need to use every aspect of your research. In some of my early essays, I had worked so diligently on research that I could have put forth an essay that was twice as long as requested. Some professors are fine with this; but nowadays, many profs give specific page or word minimums and maximums. If you're at risk of going over the maximum, it's fine to leave out some of your research or ideas. However, make sure to put in ample thought into such decisions. It is easy to claim that a paragraph that is written is better than one you have not yet written. However, which idea is more important? It's entirely possible that you have written a paragraph about a minor idea while a major concept remains unwritten. I find it wise to write as much as possible during your first draft. In your revision process, you can determine if certain ideas are weaker and you can identify sentences that seem extraneous. It is quite possible to trim an essay afterwards. Having said that, if you find that you're approaching your limit and you have only minor ideas remaining in your research, simply abandon them.
Quotations
As you're writing your body paragraphs, remember to utilize quotations adequately. These may be from your main text or they may, especially in upper-year courses, also include multiple secondary sources. Make sure to attribute ideas properly. Most students are aware that they must cite sources for direct quotations. However, remember that you should also do so if you are paraphrasing main ideas from sources. Naturally, it is wise to utilize sources that are similar and that agree on a topic. However, keep in mind, it can also be good to present diverging opinions from your sources and to evaluate the arguments as you put forth your own ideas.
It is always a good idea to put in some quotations every paragraph. Professors often expect at least one direct quotation per paragraph. Putting in two or three direct quotations is often better. However, make sure that you do not quote too much within any paragraph. By this, remember to consider the length of your quotations. If you have a paragraph that quotes five individual words and two full sentences, that is likely quite acceptable. However, if you have two or three lengthy quotations in a paragraph – each of them multiple lines long – you have likely quoted too much. The main point of an essay is to provide your argument, and it's impossible to do so if you let other people say too much. Typically, I would only consider putting one long quotation per paragraph. From there, I'd work to paraphrase other ideas and quote other words and phrases within my own sentences.
When should you use long quotation formatting? You need to do so when you have more than four lines of prose or more than three lines of verse. Long quotations should be formatted as their own paragraphs, with the entire quotation indented. There is no need to use quotation marks in long quotations as the formatting already indicates to your reader that this work is being directly quoted.
Introduction
As strange as it may sound to some, your introduction is not the first thing you should write. In fact, I recommend writing most of your essay before you write your introduction. Why? Simply put, you need to know where you're going in order to introduce the topic.
The typical format of an essay introduction is to begin more broadly and then work to narrow down your topic. You likely know that the last sentence of your introduction is your thesis – if you've followed the steps above, you already have the most difficult and most important part of your introduction written. As mentioned, your first sentence should be broad; but make sure not to be too broad. Whether you're discussing the behaviours of a titmouse or the trials of war, it would be a bad idea to begin with the big bang and work your way forward. Try to find a nice middle ground, where you present the general topic in a broad manner but where you are also near enough to reach your thesis within a few sentences. Often, it's a good idea to try to grab the attention of your reader by presenting a fact or an idea that is notable or even surprising. From there, work your way down to your thesis.
Your introduction should provide concise, relevant information. At this time, you don't need to put forth all the evidence you intend to provide in your body paragraphs. However, it can often be a good idea to present some of this evidence or to allude to it. Indeed, you may be writing your essay for one professor or TA to read. However, the aim of your introduction is to convince this person – along with any other potential reader – that your essay is relevant and worth reading.
Conclusion
Your conclusion is the easiest paragraph of your entire essay. Even if you have laboured with all the content above, your conclusion should only take you a few minutes to write – and to write very well. Sometimes students mistakenly feel that they should present new information in their conclusion. This couldn't be further from the truth. Your conclusion should simply remind your reader of your strengths. Basically, I told you this, this and this – give me a good mark! Similarly, you likely don't need direct quotations in your conclusions, at least not those that provide evidence. On occasion, you might consider utilizing a quotation that provides a general overview of the topic, but this is often not necessary.
The first sentence of your conclusion should restate your thesis. This is your main argument and this is the point you want to reaffirm at this time. You have now presented all your information and you are reminding your reader that you have proved your point. Restating your thesis is easy to do. Simply go back up and reread your thesis a few times and then rewrite a similar sentence that is different from the one above. It is fine, or even recommended, to use some of the same words as you are explaining this same point. However, make sure to make this sentence different enough from the original.
From there, you need to remind your reader of the many good points you have made in your essay. If you have followed the advice above, you have written solid topic sentences for every body paragraph, sentences that present the main idea and argument you have presented in that paragraph. This makes your next sentences very easy as well. In short essays, restate each body paragraph assigning one conclusion sentence per paragraph. However, if you have written a longer essay, this may make your conclusion too lengthy. In such cases, write one conclusion sentence for every important body paragraph. However, look for ideas that are interconnected and work to combine two (or sometimes three) body paragraphs into one conclusion sentence. By restating all these main arguments, you remind your reader of the good information you have provided and, in turn, you remind your prof to give you a high grade.
Once you have restated your thesis and your topic sentences, you need to present one to three more sentences to finish off. Just as your intro began broadly, so too should your conclusion end broadly. You may consider returning to the same idea with which you began, and commenting upon it with the benefit of all this new information you have presented. Another way to write these final sentences is simply to comment upon the topic as a whole and present perspective on it.
Works Cited/Bibliography
At the end of any essay that relies on primary and/or secondary sources, you will need to create a works cited or a bibliography, depending upon your area.  These very similar items let your reader know where you found your information.  In theory, this allows readers to seek out the same sources as you have read to learn more information.  In practice, this allows your professor to check the page numbers in your citations to ensure that you have quoted correctly.
One important thing to remember is to begin your works cited or bibliography on a separate page and to make sure your title begins on the first line of this page. Insert a page break on the previous page to ensure this occurs.
The most important thing to consider when you're working on your citations is that you must use the proper style. There are multiple styles, the most common of which are APA, MLA and Chicago. APA is used in Education, Psychology and most social sciences. MLA is used in literary papers and the humanities. Chicago is predominantly used in History, Fine Arts and sciences. In addition, there are at least another dozen more styles. How do you choose the right one? Consult the syllabus for your class. If it falls into the categories I mentioned above, the style likely corresponds, but you should always make sure you have selected the proper style.
All styles provide much of the same information. However, they do it in different manners. Plus, some items that are deemed important in one style might not be needed in other styles. The best way to ensure that you are citing your sources correctly is to consult the style manual in your field. Also, if you're searching online, Purdue Online Writing Lab (OWL) is widely respected as it is an invaluable source for information. The site explains the main styles and provides specific examples for many variables. Keep in mind that within each style, you need to cite different types of works in their own manner. That is, you need to cite books in a different way from how you'd cite journal articles or websites.
Revise
Once you have finished your paper, it is time to revise your work. Often when students complete their essays, they are tired of looking at them and tired in general, and it can be easy to simply hand in a work that is not quite complete. Ideally, you should aim to finish your paper a few days before it is due. This will give you the opportunity to put it down for a few hours or even a few days before you examine it again. With fresh eyes, you wouldn't believe all the significant items you will discover. If you're like most students, there will be typos, extra words and an assortment of minor grammatical errors. Moreover, you may discover flaws in your structure – paragraphs out of place, paragraphs missing that you should have written, and extraneous information. In addition, this gives you an opportunity to ensure that every paragraph has a strong topic sentence and puts forth an argument that helps to support your thesis.
Some people say that they have a "trick" to the revision process. Some people read their essay aloud; others print it out and make amendments with a red pen; others read paragraphs in reverse order. Any and all of these may work for you. Or they may not. Every person is unique, so you need to find the way that works best for you.
Proofread Your Essay
Multiple students ask, "Why do I need to proofread my essay? – I already revised it." In short, you are often too close to your own work and it pays to have another pair of eyes take a look at it. You might consider asking a friend to read your essay, perhaps working out a trade deal where you'll help one another across a semester. This works for some. Keep in mind, though, that your friends are likely busy with your own courses. Although they'd like to do the best possible job editing your paper, sometimes their own homework, busy lives, or even playing video games or watching YouTube comes first. Indeed, give them a try if you'd like, but make sure to always inspect the quality of their efforts. I once asked a friend to read one of my papers, and he made one three-word remark on my printed page using light pencil, which I hadn't noticed. Otherwise, he simply told me the work was good, so I handed it in. My prof noticed the note in pencil and remarked upon it; she also remarked upon multiple errors my friend had not noticed when he read my work. In short, I got what I paid for.
Until you are consistently able to achieve high grades on your own, it is recommended that you consider using a paid editing site, such as Editmypaper.ca. These sites have qualified professionals working for real money. Thus, the editors, who often have multiple university degrees, are qualified to examine your work in a neutral manner and note the strengths and weaknesses. Moreover, because they are being paid for their efforts, they are motivated to do a great job to help you out, as this benefits the site by bringing in repeat customers. In short, a paid editor will find many errors that a friend working pro bono will miss. Your editor will bring these errors to your attention, correcting the small ones and providing feedback on how to amend any larger errors that might require substantial rewrites.
Consider Editmypaper.ca for your editing needs. The qualified professionals working for Editmypaper.ca come from a variety of backgrounds; collectively, they have expertise in many subject areas. Whether you're writing on crypto-currency or current events, on Jane Eyre or air pollution, they can help. The editors at Editmypaper.ca can help you with essays, and they can help with a variety of other short works such as important emails, university applications, and resumes. Moreover, they have staff members who specialize in long term papers, theses, dissertations, and even textbooks. Consider submitting your work today.
Writing your dissertation or thesis introduction, body, conclusion, and abstract.
When a student is writing their first thesis or dissertation, it can seem extremely overwhelming! Your thesis or dissertation may be the most important composition a student will ever write. Well, fear not: I am here to help you every step of the way with your thesis dissertation. Incidentally, I will be referencing both 'thesis' and 'dissertation' when referring to graduate-level essays, and with good reason. In North America, a 'thesis' typically refers to a Masters-level essay, while a 'dissertation' refers to a Ph.D. essay. In the United Kingdom, however, the terms are reversed, making it necessary to refer to both terms.
The first step in planning your thesis or dissertation is to create a plan. Many students begin their thesis or dissertation writing journey by jumping straight into the introduction. I will suggest that instead, your focus at this point should be on writing the outline for your thesis or dissertation (for more information on writing an outline, please see "How to Write a College Essay").
Now that you have your general outline written for your thesis or dissertation, should can you begin the introduction? Nope, not yet! I am going to walk you step-by-step through the thesis or dissertation process, beginning with the body of your thesis or dissertation. Does this seem counter-intuitive, writing the body before the introduction? It is not. There are many reasons to focus on the body of your thesis or dissertation first. To begin with, if you write your introduction first, you will be mentally restricting yourself to the ideas you've put down. You may find yourself trying to fit your thesis or dissertation to your introduction, rather than the other way around. Instead, writing the body of your thesis or dissertation first allows for 'cyclical editing,' i.e., continually returning to your thesis statement, revising it against the material you've written in your thesis or dissertation body, and returning to the thesis again. By continually checking your body text against your thesis, you will be certain to stay on track. Given that ideas are certain to change during your thesis or dissertation process, consistently reviewing your new ideas against your thesis statement will ensure that your work is on track and not going off on a tangent. Perhaps you will find that after writing some of the body of your thesis or dissertation, you will discover your research will go in a different direction—rendering a time-consuming, well-written introduction or abstract obsolete.
The five major chapters of a thesis or dissertation include the introduction, review of related literature, design and methodology, findings, and conclusion. This guide will walk you step-by-step through the five major chapters of your thesis/dissertation process. Mistakes common to thesis or dissertation writers will also be addressed.
Chapter 1: The Introduction
Thesis or dissertation introductions are extremely important and must contain the following: Background/context; General Statement of the Problem; Significance of the Thesis; Research Questions; Limitations, Assumptions, and Definition of Terms.
Context: the contextual information you provide is a summary of the state of the knowledge on your subject in academic literature. Given that your thesis or dissertation will attempt to address a 'gap' in the literature, outlining this carefully for your reader is crucial. Typically, this contextual material for your thesis/ dissertation will be at the beginning of your introduction. Your background section will identify the key research you will be using in your thesis or dissertation and will come from your literature review. Briefly review why this research is particularly important, and most importantly, identify how this research ties to your thesis or dissertation. This can be your first opportunity to check this material against the thesis of your dissertation.
General Statement of the Problem: just as it says, at this step in your thesis or dissertation is this general statement, leading immediately from your contextual material.
Significance of the Thesis: When outlining your thesis statement, it should be perfectly clear to your reader why this thesis or dissertation is important. Do not leave out this step—this is where you can highlight what value, what importance your thesis or dissertation has to the discourse community in your subject. Those who are reading your thesis dissertation must understand the importance of your research within the domain of knowledge of your area. Given the complexity of a thesis or dissertation, it is critical that your reader will able to comprehend the contribution your thesis dissertation makes to the entire research area. Please do not be overwhelmed! A couple of paragraphs about the importance of this work and its contribution to the field is great. Would a different perspective on the topic lend value? Why is this 'knowledge gap' important? To whom will it be helpful?
Research Questions: State your research questions in your thesis or dissertation introduction so that the reader is not only exposed to the aims and objectives but also has a concrete framework for where the thesis or dissertation is headed. Here is the opportunity to address the 'gap' in the research mentioned above. It is not enough to just outline the gap—you want your readers to understand WHY you are writing about this subject: what is at stake? Why is this important? What would happen if this research were not performed? To begin, start with "My research focus is"; this will help orient yourself and your reader. Does your thesis statement make sense according to your background information? Could your reader flip to the Literature Review section and say, ah, yes, I can see that this is an important topic in the literature, and the chosen material does indeed show the knowledge gap focus of study. Next, set out your research objectives.
Research Objectives

What do you hope to accomplish with your thesis or dissertation project? Overall, what is the main objective? State this first. Next, break down these objectives into workable units, which you will want to organize numerically in your thesis or dissertation.

Next, review the order of the units in your thesis or dissertation. Are they arranged in the order that seems logical?

Ask yourself: Are my research objectives appropriate? Focused? Clear? Achievable?

When writing your research objectives, it is good to start each objective statement with active verbs, including 'determine'; 'explore'; 'assess'; 'examine,' and 'evaluate,' among others. Address each specific objective in the order you have outlined above when you get to the body of your work. The objectives presented here in the introduction will be referenced to in the 'findings,' 'discussion,' and 'conclusion,'; clearly, this is the scaffolding upon which your thesis or dissertation will be hung.

Limitations: thesis or dissertation what were the constraints placed upon you during the period of your research for your thesis or dissertation?
Assumptions: Following the completion of the research in your thesis or dissertation, what you anticipate will happen?
Definition of Terms: here you list any keywords that apply to your thesis or dissertation.
Chapter 2: Literature Review
The Literature Review is your first body chapter of your thesis or dissertation and is extremely important. Quite simply, it outlines the subject of your research and explains why you have chosen this subject for your thesis or dissertation. The main purpose is to identify the current state of knowledge on your subject in the discourse community. When writing a thesis or dissertation, it is important that any literature you provide here ties back to the context section of your introduction. Here is where you get to show exactly how this topic was identified, and to help your reader understand why you have chosen the topic for your thesis or dissertation.
Chapter 3: Design and Methodology
The design and methodology section of your thesis dissertation includes Subjects, Instrumentation, Data Collection, and Data Treatment Procedures. In your thesis or dissertation, this section should detail enough information about your experiment so that the reader can evaluate the rigor of your study—even replicate it, should they so wish. Remember, your reader will evaluate the research in your thesis or dissertation and make conclusions about just how valid your research procedures actually are.
Chapter 4: Findings/Discussion
This may be the most critical section of your thesis or dissertation. Here, you will report on your results from your experiment. Sometimes this section is referred to as the "Discussion," as that is essentially the purpose of this chapter of your thesis or dissertation. Discuss results; employ your tables and charts, and indicate what you believe to be the most important information for your thesis or dissertation. Address the potential implications of your research, which should include how your Findings agree or disagree with the conclusions of prior researchers.
Chapter 5: The Conclusion
The goal of your conclusion is to formulate one final outline of your thesis or dissertation's importance: objectives, findings, and recommendations. Keep the discussion to just these points in your thesis or dissertation—now is not the time to introduce anything new. Summarize your thesis or dissertation's importance, objectives and findings, then make recommendations: detail what future directions your research could take. What do you suggest? Remember: your conclusion is the last chance to bring your message home: follow the steps I've outlined for you, and you are well on your way!
The Abstract
The abstract, of course, must be the final section written in your thesis dissertation. It is the first thing your reader's eye will see—like the cover letter of a job application. While short, it should detail for your reader a summary of your research, and also excite or tease the reader into pursuing your thesis or dissertation further.
Here is what is required of an Abstract:
Statement of purpose: identify the issue you are researching for your thesis or dissertation, and why this research is important.
Research methods: How did you go about your research for your thesis or dissertation?
Findings: What were the findings in your thesis or dissertation?
Conclusions and recommendations: Now that the research project is over, what can you conclude, and which direction can you point future researchers to do?
You will find it very helpful, during composition, to continually review: have I identified my research objectives, and why the research is important? Are my methods clear? Have I summarized my major findings? Finally, does my abstract finish with my conclusions and recommendations?
Proofreading.
Having an error-free thesis dissertation is particularly important—especially if you are planning to submit your thesis or dissertation to a journal. Proofreading is every bit as important to your thesis or dissertation as any other stage of the process. If you turn in a thesis or dissertation with errors, spelling, or awkward phrasing, it will not only inhibit the understanding of your thesis or dissertation, but will also result in much lower marks. Proofreading should be the final stage of your project. Hopefully, you already have downloaded citation software and have been employing it. Your citations must be proofread against your style guide: if unsure what style guide you are to use for your thesis or dissertation, ask your professor (or check in with the Journal).
When it comes down to proofreading your thesis or dissertation, the first items you will want to review are as follows:
Proofread word choice
Proofread for wordiness
Proofread for punctuation
Proofread for jargon
Proofread for repetition
Proofread for clarity
Proofread for sentence structure
Proofread for flow
During your final proofread (you should proofread several times), focus on mechanics:
Proofread for capitalization
Proofread for spelling
Proofread for article usage
Proofread for spacing
Proofread for hyphens
Proofread for parallel structure
Proofread for split infinitives
Proofread for dangling modifiers
Proofread for spelling mistakes,
Proofread for usage mistakes (i.e., their, there, they're).
Many students, especially those for whom English is a second language, prefer to send their thesis dissertation to a professional editing and proofreading service like Edit My Paper. Not only is a second set of eyes preferable for a full review, professional proofreaders have the education, skill set, and experience to ensure your thesis dissertation is error-free, readable, and publication-ready. Good luck with your thesis dissertation—and don't forget, for peace of mind, send your work to the professionals at Edit My Paper for proofreading.
This article was written by Katie S. Would you like to consult with Katie about your dissertation or thesis? You can request Katie by initiating a live chat at the bottom right of your screen.
Essay writing made easy!
It is time to write your college essay. Great! If you are wondering what to do first, let me help! College essays can cause much anxiety among students, but it does not have to be this way. In this article on college essay writing, I will walk you, step by step, through the writing process. To begin with, ascertain the college essay writing resources available to you. Check your library. Often, the librarian can point you to many college essay writing resources. Your library is certain to have how-to guides and even templates to assist you with your college essay writing.
Before you begin to write, however, it is a good idea to make sure you are familiar with and utilizing an appropriate citation software: EndNote, Zotero and Mendeley are popular. Now that you have your resources identified and your citation software ready, you are able to begin composition. Don't worry—I'll be here with you every step of the way, as you write your college essay. Let's start!
Section 1: The Basics This initial section is a detailed, step-by-step explanation about college essay writing, including creating a thesis, introduction, body paragraphs, and conclusions, and editing and proofreading.
Section 2: Beyond the Basics Offering a more detailed analysis of what constitutes an excellent college essay and how to accomplish it.

Section 1: The Basics
College Essay Writing: The Process Approach
This section will walk you through each stage of the writing process for your college essay.
Brainstorming
To start writing your college essay, begin with brainstorming on your topic. Try and keep your essay topic fairly narrow. Why brainstorm? Well, as E.M. Forrester once said, "How do I know what I think, until I see what I say?" Brainstorming prior to writing is critical, as you need to be able to get out on paper (or screen) what you already have in your brain about the topic. You want to understand what you already know, and as anyone who has tried brainstorming can attest, it is surprising what you already know, and what you didn't know you meant to say! Perhaps the most important aspect of all this is that when writing your college essay, you 'know what you know.' If you begin to do research for your college essay prior to brainstorming, you will be in serious danger of filling your head with other people's ideas and thoughts, which will make your ability to produce original content much more difficult. So, brainstorm what you know, allow your pen to reveal ideas you didn't know you had, and get that awesome material of yours down before you hit the library. Remember: a good college essay is about your thoughts, primarily, so that is where you should begin.
The key to good brainstorming is to relax. During the college essay writing process, this is the point where you are allowed to be completely free and creative. I personally favour the timed free write method. Begin by writing fast as you can, without stopping, on your college essay subject for 7 minutes. Do not look at your paper, or turn your monitor off and type. Now read what you have written. Much of it will be gibberish, but from within the material, you will find ideas you never thought of, or directions to take your essay's argument—try it. You will be pleasantly surprised, and it will heavily affect the quality of your college essay.
Thesis Statement
A college essay thesis statement establishes the parameters of your work, and should be one or two sentences at the most. Think of encapsulating your main argument and your supporting evidence and analysis into one, short blurb at the start of the essay. It tells the reader where the essay is going, and keeps you on the path, too! It is perfectly acceptable (contrary to what you may have learned in high school) to use the first person when stating your thesis. One technique is to complete this sentence: "In this essay, I will…" Now, you have a draft. At this point, please review your brainstorming. What lends itself to your essay, what is unnecessary, what is still needed? How can your brainstorming ideas work together—what connections can be made? Brainstorming is crucial to creating quality college essay writing.
Structure
Among the great thoughts of the orator and philosopher Aristotle is "Tell them what you're going to tell them, tell them, then tell them what you told them." College essay writers: take note! There is great wisdom here. In the introduction, you 'tell them what you are going to tell them.' In your body paragraphs, you 'tell them'; in your conclusion, you 'tell them what you told them.' If you can keep this picture in mind, the point of the organizational structure of a well written college essay becomes clear.

Writing paragraphs
Critical to communicating your ideas, writing paragraphs can often be very intimidating to many college students. My goal is to walk you through writing college-level paragraphs to support your overall thesis. Just to review: the point of your college essay is to 1) demonstrate critical thinking 2) persuade your reader through the use of scholarly research to support your ideas. To demonstrate critical thinking in a college essay, you will need to reveal your critical thinking on the subject and plan how to most effectively persuade the reader of your ideas. It is in your body paragraphs that all this comes out; therefore, knowing how to create strong paragraphs is a critical skill for the student writer of college essays.
College essay paragraphs are groups of sentences that are all connected and related to a main point that is articulated in the topic sentence. Think of the topic sentence of your paragraph as a 'mini-thesis' for your paragraph. All material that follows your topic sentence must relate to this point, and none others—that's what your other paragraphs are for. Having only one topic per paragraph is crucial to writing a good college essay. Remember the Aristotelian quote earlier? "Tell them what you're going to tell them, tell them, then tell them what you told them. "I gave this tip as a way to look at the structure of an essay; now, I'd like you to use it to think about structuring your paragraph. In a way, the paragraph of a college essay is a kind of microcosm of the essay itself. The topic sentence is where you will 'tell them what you're going to tell them'; the 'body' of your paragraph is where you 'tell them,' and finally, the conclusion is where you 'tell them what you told them.' Does this sound like overkill? Believe me, it is not. The reader of your college essay seeks this amount of clarity and direction. If you want to clearly communicate your ideas in your writing, by structuring your paragraphs much like you structure your overall essay, you are going to have a strongly organized, clear, readable, and professional work of college writing. Put another way: your college essay paragraphs focus on one topic only; the topic is introduced in the topic (first) sentence, followed by your evidence and analysis of that evidence as it pertains to your overall thesis.
Helpful hint: college essay paragraphs are approximately half to a maximum of a double-spaced page long. If you have a page-length paragraph or over in your essay, please ensure that other topics haven't 'snuck in' to your paragraph. Conversely, a college essay paragraph can also be too short—if you have only a couple of sentences, that is not enough, and you must think of where the material would be better placed, if used at all.
Topic Sentences
The topic sentence of a college essay serves to focus the discussion of the paragraph only. If you are still new to the college writing process, it is often easiest to simply place it as your first sentence. Next, you present the evidence to support your thesis' claim. However, your scholarly research does not 'argue' your essay for you—your analysis of the relationship between this evidence and your claim does. Please remember that the research evidence doesn't make the claim; rather, it supports the claim. How exactly it supports your claim depends on the final element of a college essay paragraph: your analysis.
Analysis
Your goal as the writer of college essays is to support the claim you make in your topic sentence. However, the evidence that supports this claim is incomplete until you explain—clearly—to your reader exactly how the evidence supports the topic sentence. Remember, your reader is a different person than yourself; he or she may not 'see' the connections between the material as easily as you do. This is the "So What?" part of your college essay: the analysis. When you show your reader how the evidence connects to your claim, you are also showing your professor evidence of your critical thinking skills—exactly what he or she is looking for in your college essay writing. Please note that what you do not want in a quality college essay is a jumble of quotes and paraphrases that are 'filler' and do not obviously connect to the topic sentence.
College essay writing is about demonstrating how and why your argument is valid, and this is done through analysis of your supporting research. To ease this task, ask yourself the following questions: Why did I choose to use this evidence? Does it really support my claim? How does it do so? And finally: why is it important? Why should the reader care? After careful consideration, please use the latter half of your college essay paragraphs to explain why the evidence you've chosen is relevant to your argument.
Transitions
Every student has struggled with using the appropriate transitions between paragraphs, and even sentences within paragraphs. Remember, the 'job' of your college essay is to make your communication clear to your reader—therefore, transitions are key. Think of transitions as directions for your reader. Transitions in college essays exist to ease the focus of one topic to another. Simply jumping into a new topic is not enough for a quality college essay. When a college essay is being read, there should be no jarring contrasts that break the reader's focus, or make it an uncomfortable read, and it is transitions that assist your essay's movement from one idea to another. Read through your work with an eye to these smooth transitions—even better, have a friend read through your paragraphs to tell you where they have to search for connections, find it awkward to read, or are just confused.
When you break down the reading process, you are signalling or directing your reader, much like a police officer directs traffic. This metaphor of 'signalling' to the reader of your academic essay the direction the 'conversation' is now taking. Again, keeping the reader in mind is paramount when writing your college essay—you want to ensure that your reader is smoothly guided from one idea to the next. If you have ever had to read through a college essay that uses transitions poorly, you can appreciate the trouble it will cause your reader.
Editing and Revisions
It is hard to overstate the importance of editing and revisions for a quality college essay. Many students are unaware of this critical aspect of the writing process. Often, students assume that a writer is 'born with a gift' or some similar idea. The truth is, no writer—no matter how great, no matter how famous—dashes off material in one go. Get down your major ideas for your college essay in a first draft. Do not worry about mistakes—that's what the proofreading (final) stage is for (see below). Believe me, your anxiety level will go way, way down when you have a plump first draft of your own writing ready to go. If you have started your project as early as I recommend (see below), you can take your time, fix it up, polish it up, add new material, tweak awkward sentences—perfecting your college essay, while taking your time to do it.
Proofreading
Make sure you finish your final draft at least a day prior to proofreading. Give yourself 24hrs away from the essay so you can approach it with fresh eyes. Keep a log of feedback from your college professors. Use this list to check off each item as you proofread your essay. I would highly recommend that you also print out your college essay when proofreading: if you take away only one piece of proofreading advice from this section on college essay writing: this is it. It is truly amazing what pops out at you when you review your work off screen. Try it. You'll see. Read your essay aloud—better, have a friend read it aloud to you. Finally, ensure that you've followed the style guide your professor requires to the letter.
Overall, paragraphs are the 'main course' of your essay feast; taking the time to ensure that you have a clear topic sentence that relates to your overall thesis, a set of scholarly research that supports your topic, a clear analysis of exactly how your evidence supports your argument, and careful use of transitions, will all help you write a quality college essay. Please see the end of this document for further resources.

Section 2: Beyond the Basics
Writing College Essays II
Further explorations of how to write an excellent college essay.
Anxiety is the number one issue students have regarding their college essay writing—it's okay: it happens to everyone. However, college essay writing, with appropriate preparation and organization, can be much easier than you think! Often, these anxieties are coupled with the fact that the student may be new to college; they may feel pressure to perform; or just simply intimidated by the kind of writing expected in college essays. Oftentimes, the college essay assignment requires you to write in a manner you are unfamiliar with, or requires you to read essays that you find challenging to read. Again, these are common concerns for a college essay writer. Let's get started with college essay writing by taking a look at instructor expectations.
Instructor Expectations for College Essay Writing
Typically, a college essay writing assignment requires you to identify an issue and propose a solution using an evidence-based method, explaining why you think that your solution is valid. Stylistically, college essay writing is clear and easy to understand. Avoid using discipline-specific jargon in college essay writing. If your writing is unclear or too complex, your essay will be less successful. Remember: your audience is 'generalist,' meaning that your college essay should be written as though you were presenting it to a college audience made up of students across the disciplines. Good college essays should be clear and direct.
The next expectation most instructors have for their students who are writing college essays is conciseness. You may have heard your instructor speak about 'wordiness'—this is the same thing. If your college essay is filled with unnecessary words or 'filler,' your essay's intent may be missed. In short college essays, you need to make the most out of every word. In longer college essays, it is also crucial that your text is clear and concise for readability and to avoid distracting your reader from your message. Remember, you goal for your college essay is to communicate your message as effectively as you can using the fewest words possible. College essays can be complicated: by using clear, concise language, you will keep your reader interested and engaged with your writing.
Following instructions
Most professors take a great deal of time and effort into creating assignments for college essays. Writing without checking into the specific requirements set by your instructor can create unnecessary problems—review your college essay writing assignment until you fully understand it. Read through it several times, and should you still have questions, speak to your instructor. Once you have a good understanding of the assignment, prior to writing, please note specifications for word count, formatting, and citation style; these are not general guides, but specific instructions your professor will certainly notice should you miss them. Your college essays should demonstrate a strong comprehension of the assignment with writing that is clear, concise, and communicable.
College Essay Organizational Plan (Outline)
This is probably the most important aspect of writing a college essay (besides editing). There are many ways to create a college essay organizational plan. It does not matter which kind you use, so long as it works for you. Knowing how you learn best is going to help you choose how to plan your college essay. Are you a visual learner? Perhaps a concept map is best for organizing your college essay. Are you a tactile/kinesthetic style learner? Perhaps post-it-notes on the wall is your style! Or maybe you are most comfortable with the old linear outline usually taught in high school. Remember, whichever college essay plan you choose—do, do use one! This cannot be emphasized enough. As a former university English instructor, I can tell you firsthand that the difference between two finished essays—one made with, and one without, an outline—is enormous. Huge. Those who structure their college essays with an outline prior to writing produce vastly superior college essays than their peers who neglect to do so. So please: have a plan for your essay. If you are unfamiliar with the various kinds of planning methods available, please look to the resources listed at the end of this article.
Why is having an organizational plan crucial for writing my college essay?
Having an outline will help you stay on track. Remember, a college essay is a complicated work—it is easy for your reader to get lost. Your outline will ensure that your reader will be able to clearly follow the trajectory of your argument. Again, if the purpose of a college essay is to demonstrate your ideas clearly, then without thinking very, very carefully about how to structure your argument so your reader will understand it—well, they likely won't. Remember, you have been working on your college essay a long time, and you are very familiar with your resources, and what you want to argue. However, if your reader cannot follow your argument, your essay has not done its job. Knowing how to structure your college essay so your readers can follow and understand it does not happen spontaneously, nor by some hidden talent; it comes from using a n outline to structure your essay that has been carefully followed, written out, and revised repeatedly. If your reader is trying to understand how A relates to B and their relation to C, the reader will try to make those connections herself; when an essay requires so much of the reader, it will likely engender confusion, misinterpretations—the very opposite of the goal of your college essay.
An essay plan will enable you to ensure that you have all the research you need for your college essay. When you are planning your college essay in great detail, you will easily see where you might have knowledge deficits, or spurious arguments and be able to address them before creating the full essay, saving you time and energy.
Paragraphing
College essay writing must be organized, check. Now, you have the necessary materials. How do you go about writing your college essay—from the document plan to creating paragraphs? Here, we will go into some detail about how to structure the sections of your college essay. Your college essay will be comprised of your claims, your evidence, and your analysis: subjects touched upon earlier in this document. Setting these out in a tangible, written form allows you to play with the order of your arguments, your evidence, and the analysis, helping you determine how to best arrange your arguments to communicate your ideas to your reader. Remember, always think of your audience—and remember that their way of processing information might be different than yours; therefore, your job is to make sure that your college essay can be read and understood by others as well as you understand it yourself.
Having a plan for your college essay prior to writing it is the best way to alleviate writer's anxiety, as mentioned earlier. When you have a plan for your college essay, much of the work has already been done for you. You will know which argument goes where; areas needing more evidence, or areas needing more robust analysis. Additionally, having a plan for your college essay will ease your anxiety because, since it is already organized, you can attack whichever sections you feel like working on that day—and of course, allows you the certainty and peace of mind that you will indeed finish your college essay on time.
Types of College Essays
Above, I highlighted attributes your college instructor looks for in academic essay assignments. This section will provide an overview of the most common kinds of essays you will face at college.
Narrative college essays (personal, reflective)
The goal of a narrative essay is to communicate a personal statement to your audience. In these essays, given the task is to provide your personal ideas on a subject, you are expected to write your essay in the first person, meaning that yes, you absolutely may use (and will be expected to use) "I", "me" and "my," etc. Generally, narrative essays require you to make a personal connection to course materials—again, knowing the assignment backwards and forwards will help you narrow the focus of your narrative college essay. Also, the writing style may be less formal than for other essays. Narrative essays are often the kind of college essays students have the fewest problems with.
Expository Essays
Expository essays are primarily informative, meaning you are not making an argument and defending it (like an argumentative essay); rather, your goal is to clearly communicate information to your reader. Essentially, your expository college essay seeks to transmit knowledge from writer to audience.
Argumentative college essays
The goal of the argumentative college essay is to take a position on a topic in your subject area that is 'debatable,' that is, taking advantage of a 'knowledge gap' in the literature, and to defend it. What this means is that you will take a position on a subject that is currently up for debate in academic literature, for at the college level, your essay is likely to require additional research. Here's where it can get tricky, and if you were to take away one lesson from this section, I would have you understand one thing: writing an argument essay in college does not mean that YOU have, (or have to pretend to have) all the answers, or the final word on a subject (really, no one does!). If you have chosen correctly, you will take a position—meaning, form an opinion—knowing full well that yours is not the 'final word' on the subject! It is okay—preferred, even—that you use language that reflects this.
Here is a simple example. Suppose your college history teacher asks you to write an argumentative essay on lowering the minimum age to vote. You would of course do your due diligence research, identifying the major positions by both sides on the subject, situating your argument within this framework. The important thing is the tone of your argumentative essay. Given the fact that you're presenting an opinion on a subject that is debatable—one that no one is likely to, if ever, provide a definitive solution for—this means the tone of your work should reflect this 'academic uncertainty.' Often, students are erroneously instructed in high school to 'argue a point' as if your life depended on persuading your reader, which usually leads down a rabbit hole of overgeneralizing, stereotyping, or a stark refusal to entertain and validate the opinions of your adversaries. College essays must be written in a manner and with a tone appropriate for upper-level discussion and debate. If you find your college essays are filled with superlatives "the best"; "the only," "it is" (as opposed to it is not), "this proves," you are in dangerous territory.
The good news? Modifiers. Modify every determinate statement you make. Remember, nothing in this world is certain except death and taxes, as they say; this includes high-level college discourse. I would encourage you to examine every statement you make to ensure that you do not have 'absolutist' language. It is very easy: instead of "Eighteen years old is definitely too young to vote," try "many people consider eighteen years to be too young to vote"; or even "In my opinion, eighteen is too young to vote": both are preferable, as they do not purport to have "all the answers"; rather, you are using calm and modified language to express your position (opinion) on the subject: nothing more. Evenness of tone and modified language in an argumentative essay is a sign of an excellent college essay.
Critique or Analysis Essays
A critique or analytical college essay requires the writer to write about an issue or problem and provide an objective review. Often, the compare-contrast method is used here, as you are critiquing both sides of a debate. For example, if your assignment is to analyse two contrasting positions (perhaps, two essays selected from your course materials), your will evaluate the strengths and weaknesses of both sides and then present the similarities and differences between the two positions. The difference between analysis or critique and argumentative papers is that the critique explains the similarities and differences between the subjects, but without taking a position. The argumentative essay, on the other hand, positions itself within the debate, takes a stand, and defends it (again, be mindful of maintaining academic tone!)
Critical Thinking
What is critical thinking anyway? At the college level, you will be expected to demonstrate critical thinking in your essay writing. To put it simply, critical thinking involves looking at all aspects of an issue or problem before committing to a position upon it, as one cannot truly make a critical decision based on half of the facts. One helpful method to pursue a document critically is the "why, why, why" strategy. To use our earlier example: why is eighteen the legal voting age? The government decided it was. "Why?" The government determined that the level of maturity required to vote doesn't happen before eighteen. "Why?" Research by government developmental psychologists determined it to be so. "Why?" and so on, ad infinitum. Tease out all the information you can on both sides; then, you are in a position, with enough material, to begin writing your college essay.
Why critical thinking?
College essays require that you demonstrate your critical thinking ability—something your instructor is sure to be looking for. The purpose of your essay is to clearly communicate your ideas; your ideas are formed by the critical approach you take to the subject in your writing. How, then, to best demonstrate critical thinking in your college essay writing? To begin, think about the typical essay structure: introduction and thesis, body, and conclusion. Begin your introductory paragraph with your argument—this is the simplest way to inform your reader (and professor) of the issue and your critical take on it. College essays that begin with a clear statement of purpose (your critical take, your position, your THESIS) are off to a fine start. Remember, the point of college writing is to clearly communicate your ideas—having your point clear at the very start of your college essay keeps your reader oriented and expectant of what is to follow.
Presenting your research and evidence
So! You have read through the literature, taken a position, and have clearly articulated your thesis. What comes next? The research you present in your college essay will support your argument. The tricky part? Not relying on the 'evidence' to make your argument for you. Have you ever written a college essay, only to have your instructor ask for the relevance of your cited material? This is a very common issue with undergraduate college essay writing. What is the solution? Explain to your audience why the quoted material is there, why it is relevant, and how it supports (or does not support) your argument. To ensure you have done this effectively, review your essay, looking for areas where you have quoted material needing further explanation, such as quotations that are not introduced or concluded properly, but rather, left 'dangling.' For paraphrased material, check that you have made explicit your reasons for including it (i.e., how does this paraphrase support my argument?) Explain the material's relationship to your thesis each and every time you include it. Please do not assume that your reader will just 'get it'; remember, they did not go though the critical analysis of the evidence as you did, and will need clear and obvious demonstrations of how the research connects to your thesis: this is how you will 'demonstrate' your critical thinking in your college essay writing.
Overall, college essay writing does not have to be an arduous task—truly, it can be enjoyable! By understanding the common mistakes made by students writing academic essays, and using the measures outlined here to proactively address them, you will become less anxious about the process of writing a college essay.
To conclude this section of this guide to college essay writing, please remember that the point of your college essay is to clearly and succinctly communicate your ideas to an audience, and your goal is to provide evidence and analysis to support your ideas. The key to writing a good college essay, in a nutshell, comes down to your pre-writing strategies—the most crucial, of course, being your document outline.
References: Writing Resource Collections
The websites listed below include general advice, specific instructions, writing prompts, style guides, process templates, grammar help, and more.
Purdue Online Writing Lab (OWL) is my personal go-to for all college essay writing questions. There are excellent step-by-step guides to outlining your college essay—including the most accessible resources for style guides such as APA, MLA, Harvard, etc.; It is also quite ESL-friendly. This is a wonderful site for all college essay related queries, including detailed and easy-to-follow style guides, templates, and writing tips.
Dartmouth University's Institute for Writing and Rhetoric's "What is an Academic Paper?" exposes students new to the college essay writing process.
Harvard College Writing Center's "Strategies for Essay Writing" guides the reader through the process of writing college essays.

Bibliography & Citation Generators
There are many bibliography and citation generators online to assist the student writer of college essays. Remember, however, that technology does not replace the human eye; it is crucial that you review the material generated for any potential errors.
Let the experts at Edit My Paper help you with your citation needs. We'll find, fix and edit your citations to ensure they adhere to whatever style you're using. Initiate a live chat to inquire about our citation service.
Let our human citation experts generate your citations in all styles including MLA, Chicago and APA style.
This article was authored by Katie S, an expert editor. If you'd like to request Katie's editing or consultancy services, please contact us via live chat.

A thesis is an important paper that graduate students write in order to take a stance on a particular topic and must be able to convey information in a professional manner, in order for the committee to approve it. Proofreading for thesis students is a task that should not be left up to an individual, but rather a vetted company, since it has such a high influence on your grade and/or job prospects. Whether it be addressing and fixing your sentence structure, or order of items presented in support of your argument, an editor knowledgeable on the general discipline of your writing should be chosen.
Moreover, easy errors to catch, such as punctuation mistakes, often cannot be caught by yourself when reading your paper in your head. This is why a thesis proofreading service can be so valuable to you – especially when you aren't well versed in the ins and outs of English grammar. Thus, a professional proofreader can be your best asset for identifying, correcting, and helping you toward a perfectly worded thesis. As well, maintaining a coherent point of view is essential and is something that an experienced editor is able to help you with, without requiring a complete rewrite.
The Lengthiest Paper of Your Academic Career
When reviewing and perfecting your lengthy thesis or dissertation, it's essential to have choose an essay editing company that's able to understand your topic, allowing the editor to provide you with relevant feedback on your thesis. The higher percentage of your final grade should determine the quality and level of editor you choose – paying a lower price may cost you more in the long run when you realize that the editor only proofread your thesis, and failed to point out any flaw, or address flow and consistency issues. Thus, thesis editors must be carefully chosen and vetted – something that takes time to do; you could vet an editor yourself or try out a few, but your time is more valuable and should be spent on more academic work. Thus, using Edit My Paper's proofreading and editing service can not only help your grades, it will save you valuable time and money.
As well, a preselected Edit My Paper editor ensures that the reading level is higher than the paper you have presented them with. You shouldn't trust a freshman with a high school vocabulary level with editing a thesis.
The Mistakes that Will Cost You
Often students of all levels forget that when a person reads a few perfectly worded pages, all it takes is one mistake, and it'll stand out in the readers' mind. A professor proofreader from EditMyPaper.ca will be able to provide you with an above industry standard level thesis editing service, all the while ensuring your paper is free from common mistakes. Each editor also practices 'reading for understanding' which makes them comment on fatal flaws in your work. Thus, when choosing a professional editing service, the cost of services should be reasonable for the time required to complete the work, knowing that the value of results is paramount to the cost of the service. Think smart, think Edit My Paper.
Once you are set up with your template and citation software you can look forward to a lot of reading and writing! Keep your source material organized (using your citation software) and all in one place. Step 4 is to generate a summary, a thesis plan of action. How many chapters will your thesis contain? A typical number is five, with an introduction, methods section, results section, discussion section and summary section; while this is a good rule of thumb, requirements can certainly can vary between fields and the level (i.e. graduate or undergraduate, Masters versus Doctoral). What are you going to discuss in each chapter your thesis? An introduction is probably a good idea for chapter 1, but you might not want to write the introduction first. Don't try to write the abstract first either, your abstract should be written last once the body of your thesis is complete. A good place to start writing might the chapters where you discuss your research or thesis topic and your methods. Whatever you choose to start with, use a summary-style approach to organize your thoughts before you start writing. This will make the process of editing and proofreading much easier when you get to the later stages of your writing.
Step 5 is to get going with writing! Regardless of the chapter you decide to write first, gather all your sources (you should already have done so back in Step 3! Then, get going, writing directly into the template you hopefully located back in Step 1. I am not going to kid you, writing will be a lot of work regardless of the length of your thesis, or the topic. But, you can certainly make your life easier by keeping a well-formatted document right from the start. If you are lucky, the template document will already be styled in the required format. Maybe you are submitting your thesis to a journal, but, in any case, it will eventually be a published and accessible document so you will want to ensure the formatting style matches the required format. Set up your formatting right from the start to make things easier later; you don't want to have to worry about formatting when you get to the stage of editing and proofreading. You will write and rewrite, and that is part of the writing process. Try to get a single draft before you start editing and proofreading any individual section or chapter, editing and proofreading will come later.
Services, Proofreaders, And More!
The time has finally come to write up your thesis? Congratulations! However, if your experience is anything like most others, you may be wondering where to turn first. Let me walk you through the most important components of thesis writing, whether it is at the graduate or undergraduate level, with the following ten steps to thesis writing. The first place to turn to is your institution's library. They usually have excellent resources, including templates, how-to-guides, and advice on editing and proofreading. Eventually, you will want to use a reputable proofreader or proofreading service to make sure your final document is perfect before submission, but first you will need to do the writing! You will need to edit your thesis over and over, producing numerous drafts that will all need to be carefully proofread. Your institution will likely have a downloadable template that has already undergone careful proofreading, and your job will be to populate the various sections with your writing. Step 1 is to find out if you can access such a document through your institutional website. Step 2 is to use all the resources available to you! Libraries, particularly university libraries, are often packed full of resources you didn't even know were there. Try looking for thesis writing help on the library website to get the ball rolling. Once you have assessed and accessed your starting materials it's time to get writing…almost! Step 3 is to ensure you are familiar with citation software. Seriously, take the time to teach yourself how to use citation software before you start writing, it will make writing, editing and proofreading so much easier later. Do not rely on the software embedded in your word processor, take the time to ask around, what do your colleagues use? EndNote, Mendeley and Zotero are popular options that are often recommended (1). Whatever citation software you choose, be sure that you learn how to use it before you get going, and save yourself from doing triple the work later. Cite and reference as you go, and use citation software to help you proofread. They aren't perfect, but they do a great job organizing and proofreading your references!
Once you have each chapter complete, check in with your supervisor or instructor to make sure you are on the right track (you don't want to make even more rewriting for yourself than necessary). Your supervisor will likely give you some advice for changes, and maybe even help with some basic proofing. By the end of Step 5, you should have a complete draft of all your chapters and they should be coherent if not perfect. You can also bring in an editor or proofreader to go over your draft and look for anything obvious in structure or organization, but you probably don't want to do a word by word edit and proofread at this point, as you will probably just end up having to do it again at a later step.
Step 6 is to pause with the writing and work on your figures (2). Any thesis will likely have multiple figures, either embedded within the body of the text or in an appendix at the end of manuscript. Perhaps you assembled some of your figures before you started writing, and that's great! Step 6 is the time to spend a probably enormous amount of time perfecting your figures and getting them into a format that can be inserted into your document. (Play around with this to make sure you know how to do so). This could be PNG, JPEG, PDF, or another specific format depending on your field. Figures take a long time, and deservedly so, as they tell the story of your work. All figures need a legend (usually at the bottom) and all tables need a title (usually at the top). Make sure you take the time to read and re-read your titles and legends and make sure they are proofread to perfection! Take time to carefully proofread your legends and titles and make sure your tables and figures are numbered and are referenced in sequence in the body of the text (you'd never, say, bring up Fig. 7, before you discuss and refer to Fig. 6).
Once your figures are assembled and formatted and edited, it is time to move on to Step 7, which consists of mapping where you want your figures and tables to go in your document. Figures and tables should be numbered and sub-numbered within each Chapter (for example, Figure 1.1, 1.2 in chapter 1, and Figure 5.1 and 5.2 in chapter 5). In Step 7, you should go back to your document and figure out where in the text each figure comes up and thus should be inserted (don't insert them yet, but leave a note as to where they will be inserted later). No figure or table should ever appear in the body of the text before it has been mentioned in the text. If you are able to put all your figures in an appendix at the end of the manuscript, you are lucky, as that will be much less work. They still, of course, need to be formatted and assembled and proofread and then the place where you will refer to them mapped into the body of the text. To recap, by the end of Step 7, you should have a complete draft of your thesis document, a file with your fully formatted and proofread figures, and a specific location within the body of the text where each figure (or table) will be referred to, in numerical order. Double-check and proofread titles, numbering and legends, or have a proofreader or proofreading service help you finalize your figures.
Step 9 is where you put it all together! You've worked with your figures and had them proofread, and you have mapped where you are going to reference them and insert them. This will take longer than expected, because text will probably jump around on you and you might encounter other obstacles. Stick with it! If you've been using good formatting skills along the way, you shouldn't need to do much more than insert your figures and ensure they don't jump across pages. Be sure that the figure legend is on the same page as the figure (rather than being on the next page). You might need to play around with the sizing of your figures too. Again, if you just need to assemble your figures into an appendix, consider yourself envied! Be sure to check with your institution or supervisor so you know the expectations for figures and tables. Most often, especially at the graduate level (i.e. Masters and Doctoral), figures must be embedded in the body of the text. By the time you finish step 9, you should have a clean draft that you are happy with, and that contains all of your figures where you want them to be. You are getting close, but there are a few more critical things to do before you submit your thesis. Congratulations on getting this far!
Step 10 is the final push to proof and perfect your thesis prior to submission. You'll need to proofread everything, from start to finish, as many times as you think you have already done so. At this point, you have read your thesis and edited your thesis so many dozens or hundreds of times that it will be hard for you to spot any errors. The best thing you can do in Step 10 is have someone else proofread your thesis; ideally, an editor, proofreader or professional editing service (3). There are a number of services out there, and it is worth every penny to have them find the grammatical and wording errors that might take away from your thesis. Remember, your thesis will be published and archived and will live on in the literature, the worst thing is to come across typos or things you wish you'd changed months or years later! Proofread the body of the text, proofread your figures, proofread your legends and don't forget to proofread your citations and list of references! A good proofreading service will do all of this for you. Finally, at last, you are ready to submit! Now, knowing your thesis is perfect and ready to bind, print and submit, you can move on to preparing for your thesis defense!
References:
University of Toronto, 2019. Citation Management. Retrieved from: guides.library.utoronto.ca/c.php?g=250610&p=1671260
University of Las Vegas, n.d. Manual for Formatting the Figures and the List of Figures in the Thesis or Dissertation. Retrieved from: unlv.edu/sites/default/files/page_files/3/10_FormatfoListofFiguresandFiguresManual.pdf
Edit My Paper. Retrieved from: https://editmypaper.ca/
University and college students often find themselves overworked and stressed out over seemingly endless essays assigned one after another. Asking someone to "fix my essay" can often be a burden on one's friends and family, while choosing the right person to take on the task can make or break your grades. Paper writing services often have templates that they use to 'customize' a paper for you, but it usually results in low quality, plagiarized work, which is why we do not write papers. It's actually quite easy to use sources like Google Scholar to find good research material and write a half decent essay, and when combined with a professional proofreader, you can turn your B- essay into an A+ essay within a few hours.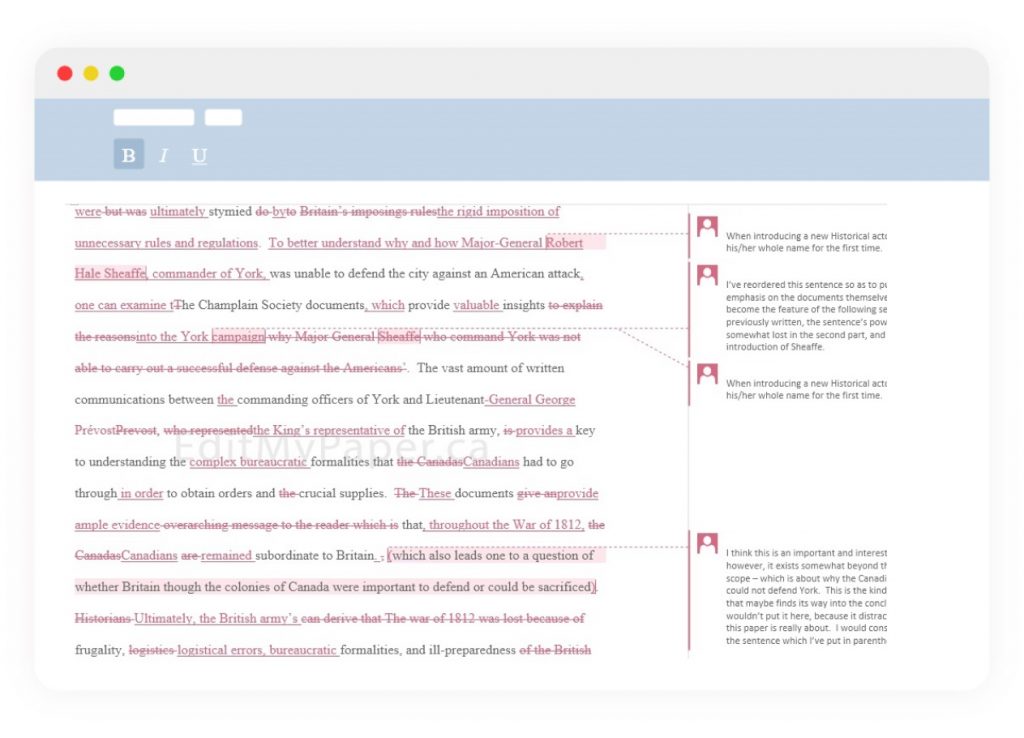 Having your essay fixed up by a professional can get you higher grades and often times it's the small, easy fixes, that you miss when you review your own work, that our editors will find and correct. English has confusing grammar rules which take years of practice and use to fully master, which is why English language proofreaders at Edit My Paper can bridge the gap and allow you to learn from your corrected mistakes, rather than from lost marks. We use Microsoft Word markups to easily show you what your editor did, allowing you to accept or reject each edit, and review the comments your editor left for you.
You Write The Paper
It's without a doubt easier to formulate your own ideas than try to convey want you want to another person. By coming up with your own essay content, you are able to follow your professor's structure and topics, as well as any advice your TA has given you. Following instructions and answering your essay question the correct way is how professors grade papers, in addition to the content, which needs to be presented in a way that is coherent and at an expected university level. Teacher assistants or teaching assistants, often have a clear idea of what they are looking for in a paper, so having a teaching assistant, professor, or graduate student edit and proofread your paper before submitting it to be marked, can often result in a higher grade.
It's without a doubt easier to formulate your own ideas than try to convey want you want to another person. By coming up with your own essay content, you are able to follow your professor's structure and topics, as well as any advice your TA has given you. Following instructions and answering your essay question the correct way is how professors grade papers, in addition to the content, which needs to be presented in a way that is coherent and at an expected university level. Teacher assistants or teaching assistants, often have a clear idea of what they are looking for in a paper, so having a teaching assistant, professor, or graduate student edit and proofread your paper before submitting it to be marked, can often result in a higher grade.
Editors specialize in helping you to fix run on sentences which are often confusing to anyone reading your paper, diluting the content you have worked so hard to research and detail in your essay. Thus, choosing the right proofreader who will not only edit your work thoroughly, but provide helpful suggestions on how to improve your work, can easily take your paper to the top of your class!
Our Editors Fix Your Mistakes
With this in mind, if you're unsure of whether you've squeezed every last 'mark' out of your essay, send it to one of our professional editors. In less than three minutes you can upload your paper to be edited, choose from one of our fast turnaround times, and have it back in 90 minutes! When you get it back you'll be able to view and accept all changes. Let us fix your essay mistakes to help you get a better grade today!